Traveling long distances involve a lot of planning and thought. The traveling may involve a fun trip, or you could be relocating to another part of the country. But either way, you do need to put plan well, especially if you own a motorcycle.
This is where a motorcycle trailer could come in handy. A motorcycle trailer is a type of utility trailer used to carry motorcycles. Or it could also be a trailer to carry the additional gear you can pull using a bike. 
The trailer's weight used to transport a motorcycle can start from around 50 pounds and exceed 1000 pounds empty. The weight varies depending on capacity, construction, length, and material. 
Types of motorcycle trailers
Open motorcycle trailers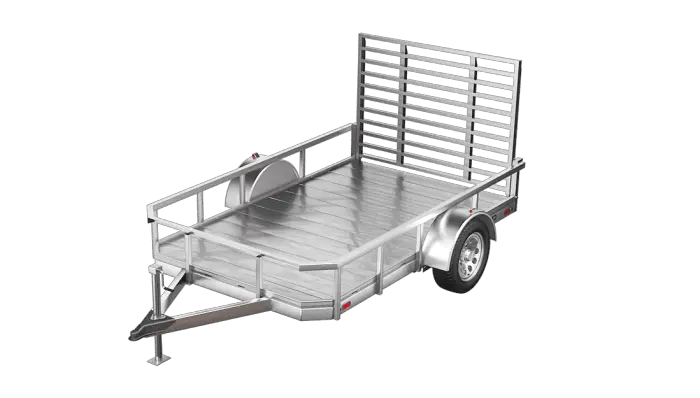 Open trailers are also called general flatbed trailers. They are cheap, easy to use, and convenient. They can get your bike from point A to point B without spending too much money.
An open trailer can come in different sizes, which you can use to transport more than one motorcycle. You can also use them for many other purposes.
Open motorcycle trailers may weigh 300 to 800 pounds with an average weight of 500 pounds. Their average load capacity usually comes under 2,000 pounds.
Enclosed trailers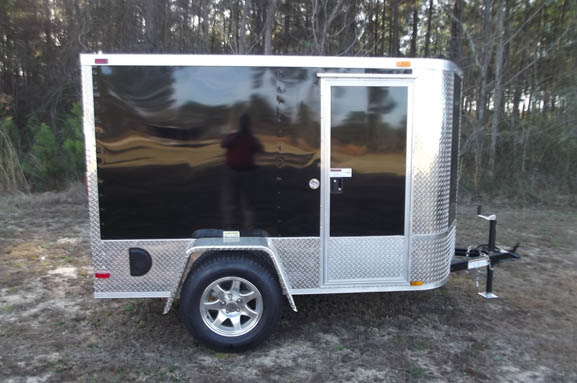 Enclosed motorcycle trailers cover your motorcycle completely. They protect your bike from rough weather. And make sure that it is safe, especially while traveling lost distances over rough terrain.
The first type of enclosed trailer is a single-axle trailer. When it is empty, its weight starts from 700 pounds for the smallest size (5×8 feet). The weight can go up to a maximum of 1,725 pounds for a 7×16 trailer. 

The weight also depends on the materials used for construction. For example, trailers made from aluminum tend to be lighter than those made from steel.

When a single-axle trailer is fully loaded, it can be rated for a maximum of 3,500 GVWR. However, for trailers that are 10 feet long or less, the average payload capacity is 2,250 pounds.
The second type of enclosed trailer has tandem axles. You can use these trailers to transport larger and heavier items. They are also more stable and are suitable for towing over long distances. 

The average empty weight of a tandem axle trailer is 1,775 pounds for the smallest size (6×12 feet).

Tandem axle trailers have an average payload capacity that ranges from 5,225 pounds to 4,175 pounds. They are rated up to 7,000 GVWR.
 Hitch-mounted trailers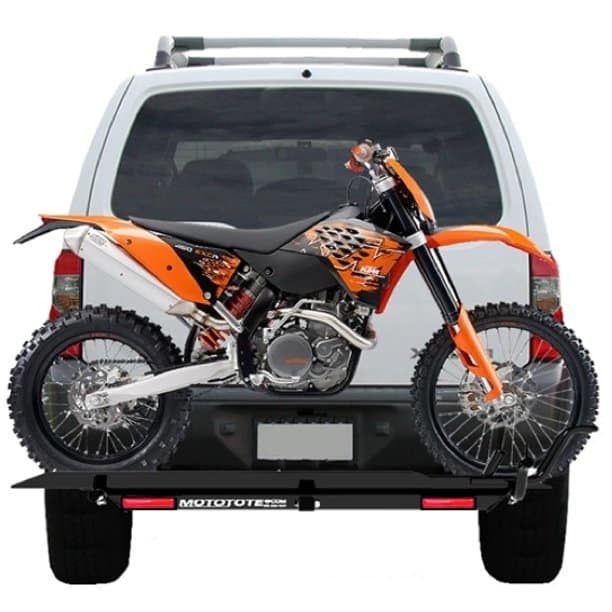 Hitch-mounted trailer slide into a trailer hitch, allowing lighter bikes to be lifted onto the trailer. These trailers do not have wheels and suspend the bike off the ground, holding it close to your car. You can use hitch-mounted trailers only for bikes that don't have a lot of weight, such as dirt bikes.
Folding Trailers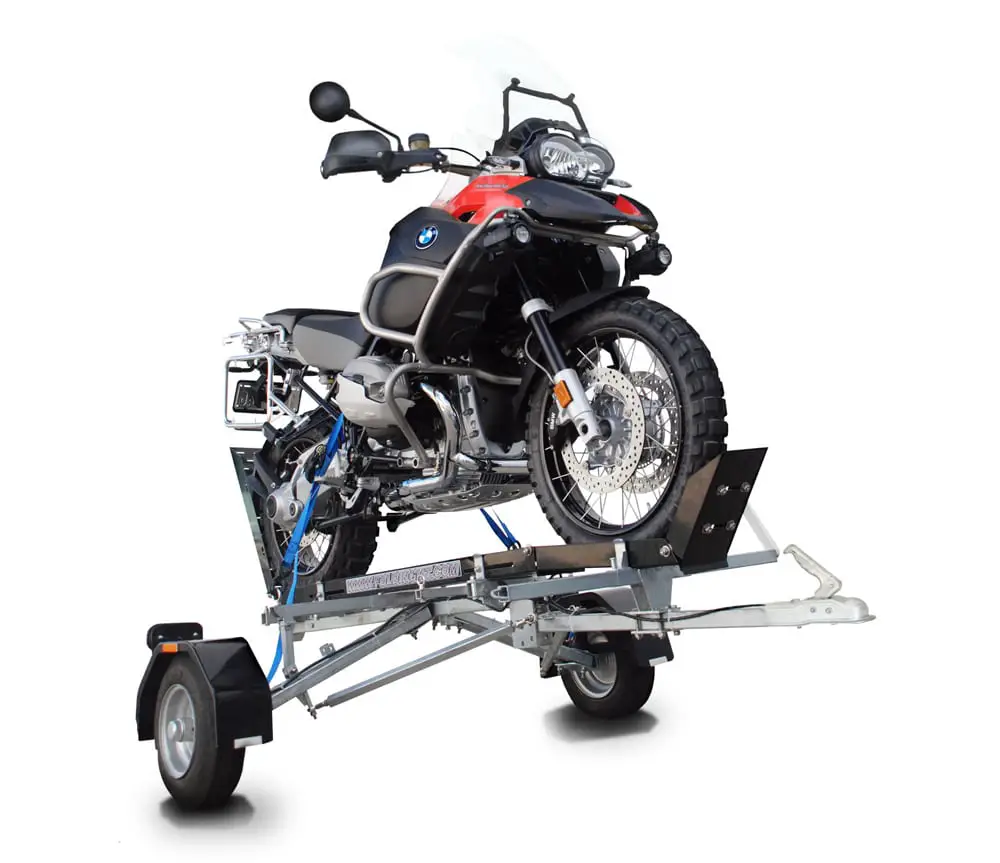 As the name says, you can fold and tuck a folding motorcycle trailer. They help you save space. And with the proper hardware, you can transport a bike over long distances. They are also reliable and can last for years. They can weigh from 300 pounds to up to 2000 pounds. 
Stand-up motorcycle trailers are similar to folding trailers and are considered one of the best motorcycle trailers.
Gooseneck trailers
Another type of motorcycle trailer is the gooseneck trailer. These can be heavier than enclosed trailers. For example, a small (7×18 feet) gooseneck trailer weighs 3,000 pounds when empty. And it has a payload capacity of 7,000 pounds. 
A bigger one (say 8.5×40 feet) weighs 5,000 pounds empty. It has a payload capacity of 16,000 pounds.
Clamshell motorcycle trailers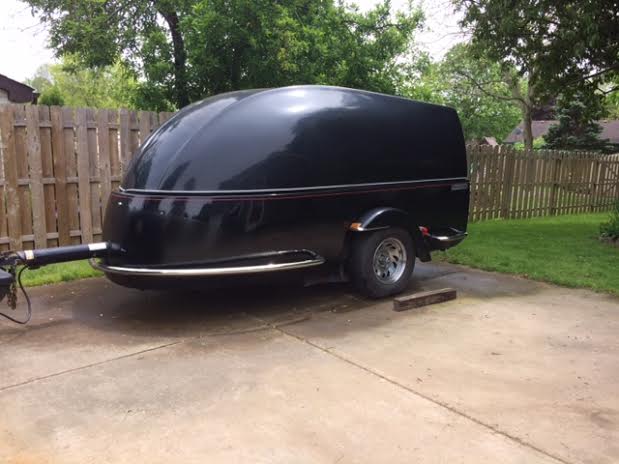 Some manufacturers offer special clamshell motorcycle trailers. They are specially designed to transport two or more bikes, which can be heavy. They have a fiberglass shell that protects the motorcycles from the elements. 
Clamshell trailers are among the most expensive motorcycle trailers on the market.
Specialty motorcycle trailers
These are customized trailers, which you can order according to your needs. They are usually enclosed, sleek, and stylish. The trailer's weight and cost would depend on its building material and its additional features or unique features. You can also use it to transport bikes with a lot of weight.
What should you consider while buying a motorcycle trailer?
When buying a motorbike trailer, you first should check if the trailer you are eyeing is suitable for your bike and budget. Your motorcycle's weight and cost are essential in choosing your bike trailer. The trailer size matters too.
So, before choosing a motorcycle trailer, consider the following points. That way, you can get the best option possible.
Gross Vehicle Weight Rating (GVWR)
The GVWR, or Gross Vehicle Weight Rating, is the maximum weight that a vehicle can safely hold. This includes the "curb weight" (empty weight) of the bike, its riders, and luggage. It does not include the weight of the trailer.

When towing, it is essential to know the limitations of the vehicle pulling the trailer. Always keep the GVWR in mind as you're loading up.
Gross Combination Weight Rating (GCWR)
GCWR is the maximum allowable weight of both the loaded tow vehicle and the loaded trailer that the tow vehicle can handle safely.
Gross Axle Weight Rating (GAWR)
This is the maximum weight that a single axle can safely support. When carrying a well-distributed load on two axles, the load weight distribution is usually equal on each axle.

It is crucial to ensure that the GAWR of both the tow vehicle and the trailer are compatible.
Tongue Weight
This is the downward pressure applied to the back of a tow truck by a trailer or towable load. The maximum tongue load is the maximum amount of weight that a trailer hitch can hold.
Payload Capacity
This is the weight the vehicle or trailer can safely carry without damaging the suspension, tires, or other components. The heavier the payload, the more weight it can carry.
Towing Capacity
A vehicle's towing capacity is the maximum weight the vehicle can tow. This includes both the weight of the trailer and its contents. The towing capacity of your vehicle should generally be higher than the load capacity.
A list of 13 popular motorcycle trailers and their weights
Trailer make and model
Trailer
Weight (lbs)
Load Capacity (lbs)
Goplus 600 LBS Motorcycle Carrier
98
600
MotoGroup Double Motorcycle Carrier
70
600
TMS T-NS-MRC001 Carrier Hitch
48
500
VersaHaul VH-55 DM
78
600
TowSmart Three Rail Trailer
425
2000
Kendon Go! Series Dual Rail Ride-Up Folding Motorcycle Trailer
520
2000
Stinger Extra Long Folding Trailer XL 112
320
3180
Featherlite 1694
750
NA
Carry-On 6 x 14 Enclosed Cargo Trailer
990
2000
ATC Quest Aluminum Trailer
Depends on customization
Depends on customization
Five Star Aluminum Ramp 4 ft
30
1500
Kendon Stand-Up Single Ride-Up SRL Motorcycle Trailer
350
1000
Ultra-Tow Aluminum Hitch Cargo Carrier with Ramp
64
500
What are the benefits of using a motorbike trailer?
A motorbike trailer is the easiest way to transport a bike. 
They are cheaper than trucks and vans. And you can also easily haul your bike onto one. They're also incredibly strong, stable, and secure, even for heavy bikes such as sports bikes. 
Of course, it is also important that you buy the right ramp and straps to use on your motorcycle in the trailer. 
You want to ensure that you are loading the bike properly. And it would be best if you also kept it safe from damage while on the road. 
Another type of motorcycle trailer – motorcycle camper
Apart from the above, a motorcycle trailer can also mean a trailer that you pull using a motorcycle to carry additional gear. They can also be called motorcycle campers.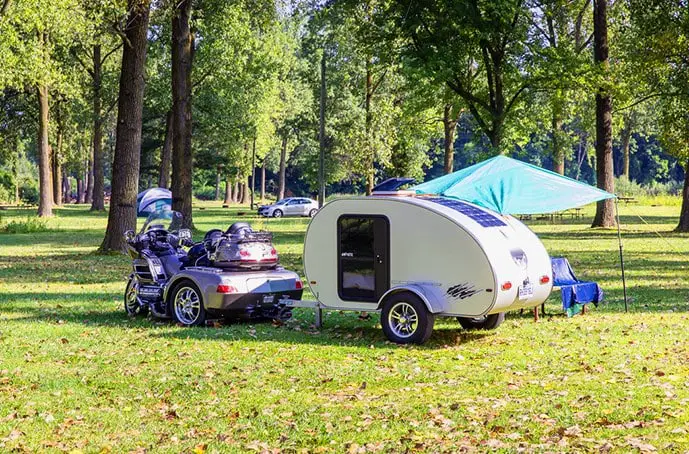 As a general rule, such a trailer should be as light as possible while maintaining structural quality. Your motorcycle should be able to pull it without affecting the trailer weight affecting the control of the bike. Its height and width are also important. 
The average weight for a good motorcycle camper is generally between 120 and 150 pounds.
This type of trailer is a good idea for a long trip, especially one that can involve camping outdoors. You can use it to carry more items. 
Some good options for motorcycle campers include the Moby1 C2 Camper, Kwik Kamp II, and the Mini Mate Camper Trailer.
Conclusion
Picking the right trailer for your motorcycle can take a bit of time. After all, the market has so many different types of trailers.
The most important consideration is what you need.
A good rule of thumb is to keep in mind the weight of the trailer and the weight of the bike you want to transport. That way, your chosen trailer will perform exactly the way you need it.