What's one great way to revamp your bike? A vinyl film or wrap.

Vinyl wrapping is a way of changing the look of your vehicle. It is a cheaper alternative to an expensive custom paint job. It's also one of the best ways to add a protective layer to the outer parts of your bike. 
But how much does it cost to wrap?
Generally, it costs around $1,500 to $4,000 to vinyl wrap a bike. But it could cost more or less than this, depending on the quality of the material. Partial wraps also cost less than full wraps. 
The cost can also change depending on whether you are doing it yourself or paying someone.
Approximate cost of motorcycle vinyl bike wraps
Some well-known brands of motorcycle vinyl sheets include 3M, RWRAPS, Avery, and ORACAL. Here are some approximate costs according to different vendors.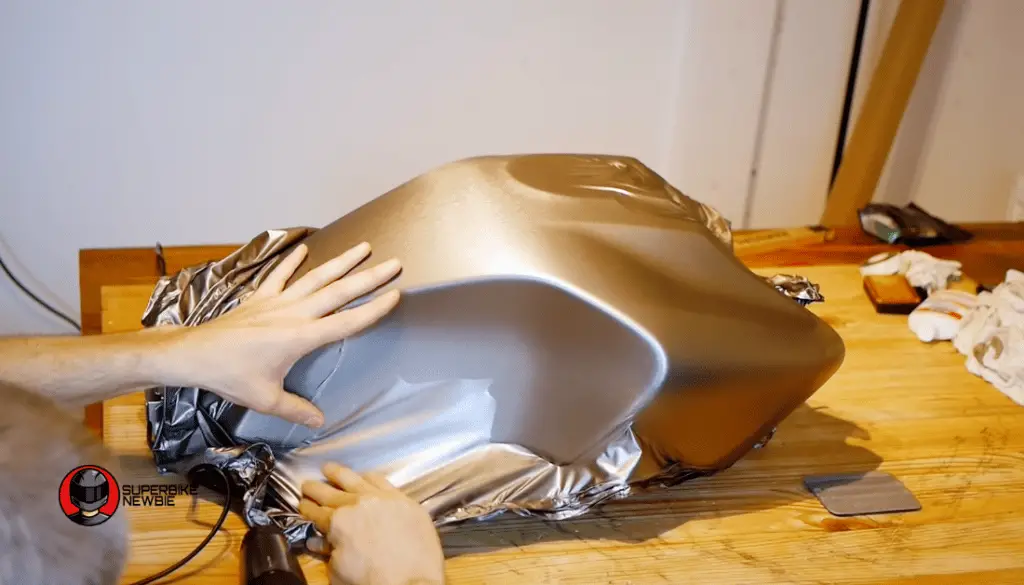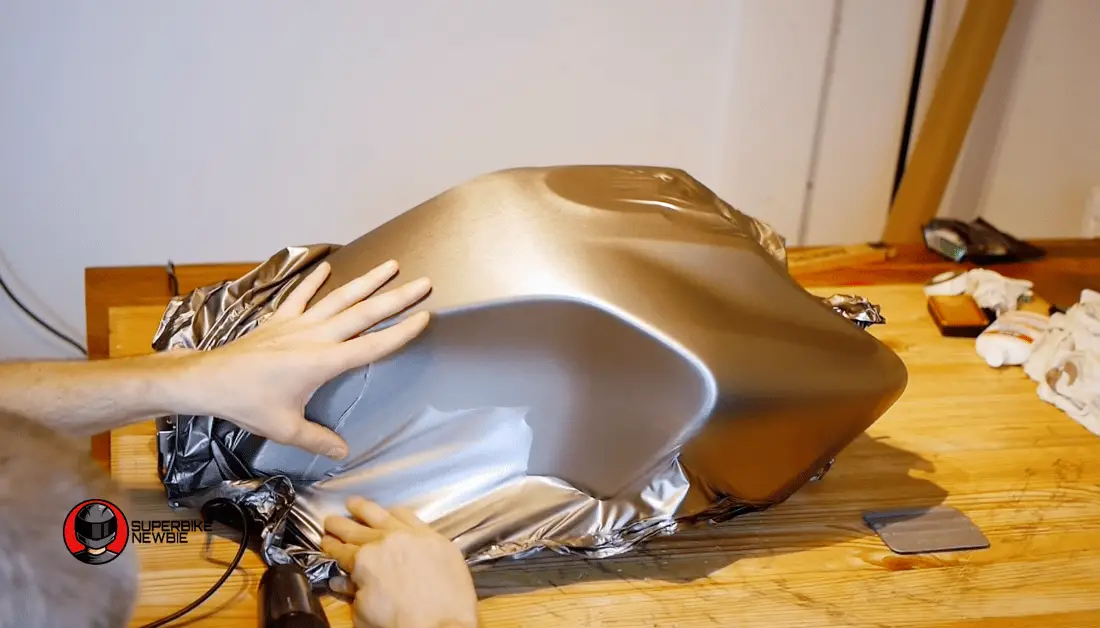 This vendor offers a small piece at $150 and a fuel tank at $300, while the total bike wrap costs between $1,300 and $1,600. Do note that these prices do not include labor.
Suppose the film is applied perfectly by a professional, using high-quality materials. In that case, it can last for a long time (up to 5 years). The ones that Tinting Chicago uses are from top brands such as 3M and Avery. And they come with a warranty of 2 years.
Advanced Graphix can provide a partial motorcycle wrap for as little as $650. They can also custom design your wrap from scratch if you are in the Harrisburg, PA, area. They can also incorporate your logo from a digital image. 
Advanced Graphix uses only the best 3M vinyl with a laminate coating lasting 3-5 years. They will also protect against the elements, stone chips, and salt damage.
The company also does vinyl wrapping for cars, buses, trucks, and other vehicles.
This website offers DIY vinyl sheets and wraps.
You can get 3M™ Motorcycle Wraps (1080 / 2080 Series Vinyl Film). It starts at $15.99.
Another option is Avery Dennison™ Motorcycle Wraps (SW900 Series Vinyl Film). It starts from $14.99.
You can also get ​​ORACAL® Motorcycle Wraps (970RA / 975 Series Vinyl Film). They start from $15.99.
This website offers full wrap kits as well as ¾ wrap kits in exciting designs. It also has videos to help you install the kits. 
The full wrap kits are currently on sale, starting from $399. Full wrap kits include printed panels to cover all bodywork, including a solo tail cowl cover. Each kit will be 9-12 pieces. 
The ¾ wrap kits start from $339. These are set up for either black or white bikes. They do not include material for the tank's top, the tail's top, or the upper front fairing.
Bikeskinz also does installations in the Charlotte, NC, area for a fee. 
Other DIY options for vinyl wrapping
If you are good with your hands and have a limited budget, you can buy vinyl sheets from Amazon. For example, these 3M vinyl sheets from Amazon. They come in different sizes and colors. Each sheet usually costs under $100. 
If you are wrapping the bike yourself, do it in a dust-free environment. You will also need different tools. They include a heat gun, tape, razor blades, isopropyl alcohol, and a squeegee.
Anyone can easily wrap a bike if the design is not complicated. You can easily go online and watch videos that show you how to do it.  
But what if you have no experience and have chosen expensive wrapping film for your bike? Then, it would be better to pay professionals to do it.
Different types of motorcycle wrappings and their cost
You can get whatever vinyl decals you want for your bike. You can get custom graphics and a unique design. But the biggest factor determining motorcycle vinyl wraps cost is the quality of materials.
They can come in different qualities with different prices.
Vinyl matte finishes cost approximately $2.00 to $3.50 per square foot. This is according to CreditDonkey.
Vinyl gloss is usually the most affordable material to wrap your vehicle. Its cost per square foot ranges from $1.50 to $3.50.
Metallic Cast Vinyl, which costs around $9 and above per square foot.
Chrome wrapping starts at $8 per square foot. This price will increase depending on the quality of the chrome you choose. 
Carbon fiber is a popular choice costing about $3 to $7 per square foot.
You can also get motorcycle wrapping that uses real gold and silver. They are much more expensive than all other types of wrapping material. The cost can range from $50 to $100 per square foot. However, they last a long time and maintain their luster.
What types of motorbikes can be wrapped?
You can wrap any type of motorbike.
It can be a street bike, a cruiser, a dirt bike, a chopper, a scooter, or any other kind. You can also wrap accessories like helmets or the bike's leather seats. You can do partial or full vinyl or custom motorcycle wraps on them.
Why should you wrap your motorcycle?
To save money
Wrapping your bike is a much cheaper way of revamping your bike than the paint method. A proper paint job can easily cost between $3,000 to $8,000, depending on the paint's color, paint method, and quality. It can even go as high as $15,000. 
Meanwhile, professionally installed vinyl films with high-quality materials, decals, and custom graphics cost much less. So, you can get a new look for your bike at a fraction of the cost of a paint job.
Changing the look of your bike whenever you want
It's an easy way to your bike in whatever style you want. Moreover, vinyl wrapping is easy to put on and take off. So, it is very easy to change the wrapping if you get tired of the old look. 
The best thing about vinyl wrapping is that it is the ultimate customization option. This also comes in handy if you use your bike to advertise your business. You could change the ads regularly, 
Short installation time
A custom paint job can take up to two weeks. But you can wrap a bike in three to five days. Even if you are doing it yourself, wrapping a bike does not take much time. Your DIY skill doesn't need to be very good (even if you are doing it for the first time).
Protection and easy maintenance
Wrapping your bike protects it from chipping, scuffing, and sun damage. It also protects the original paint job underneath from weathering. 
It's also quite easy to maintain. You can clean it easily using regular soap and water.
Maintain resale value
You can use motorcycle wrap to maintain your bike's original look and protect the original paint job. This can be very helpful in maintaining the resale value of your bike.
Do note: If you have changed the color of your bike through wrapping, you should notify your insurance company. This information needs to be updated in your insurance details.
Conclusion
Owning a motorcycle is not just about functionality and getting from point A to point B. It's also an expression of who you are. 
Just like the clothes you wear, wrapping your bike also helps you express your aesthetic.

Not only that, it serves a practical, protective purpose too. So, if you can spare the cash, go for it. And watch the compliments roll in.