What do you think of when you hear the word 'Vespa'? Most people associate that word with an iconic brand of scooters that has style and functionality. The Piaggio company officially started Vespa in Italy in April 1946. It celebrated its 75th-anniversary last year and has sold over 19 million units till now. 
So, you may have decided that your next purchase will be a new Vespa scooter. What is the best way to decide which is the right Vespa scooter for you? Choosing by its price is an excellent way.  
The price of Vespa scooters in the US market ranges from $4,000 to $8,000. Special edition models cost more. The cheapest models have a 50cc engine which offers lower speeds. The most expensive ones have engine capacities of 300cc and provide faster speeds. 
What are the different ranges of Vespa scooters in the market?
The different Vespa ranges in the market are categorized by their engine size or cc models. The available ranges today, as given on their Vespa website, are the Primavera, Sprint, Elettrica, GTS, and Sei Giorni.
Vespa Primavera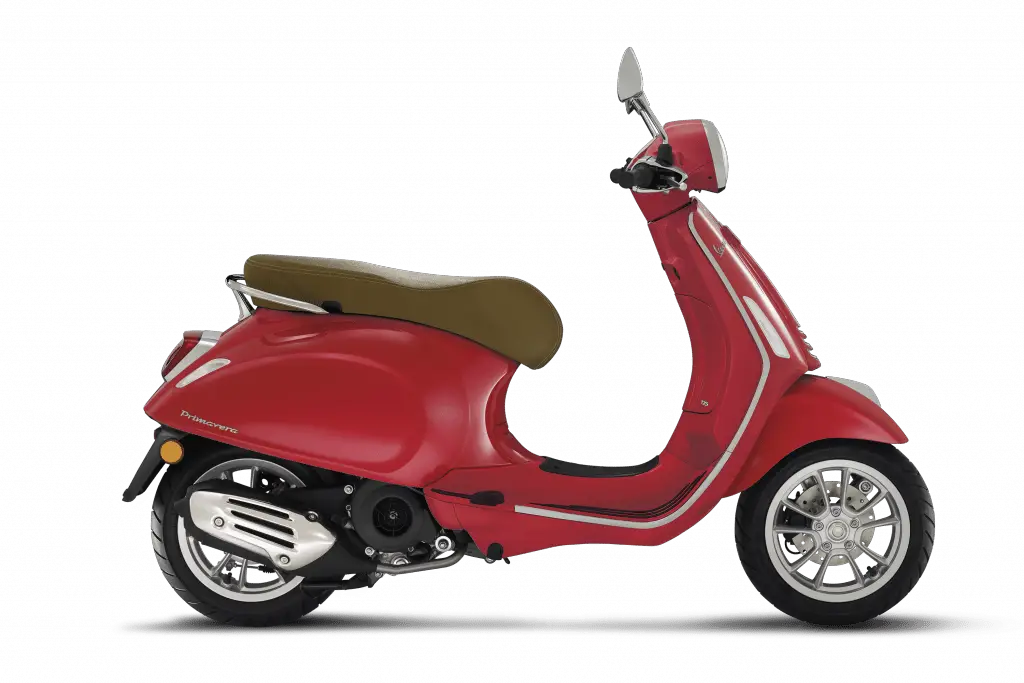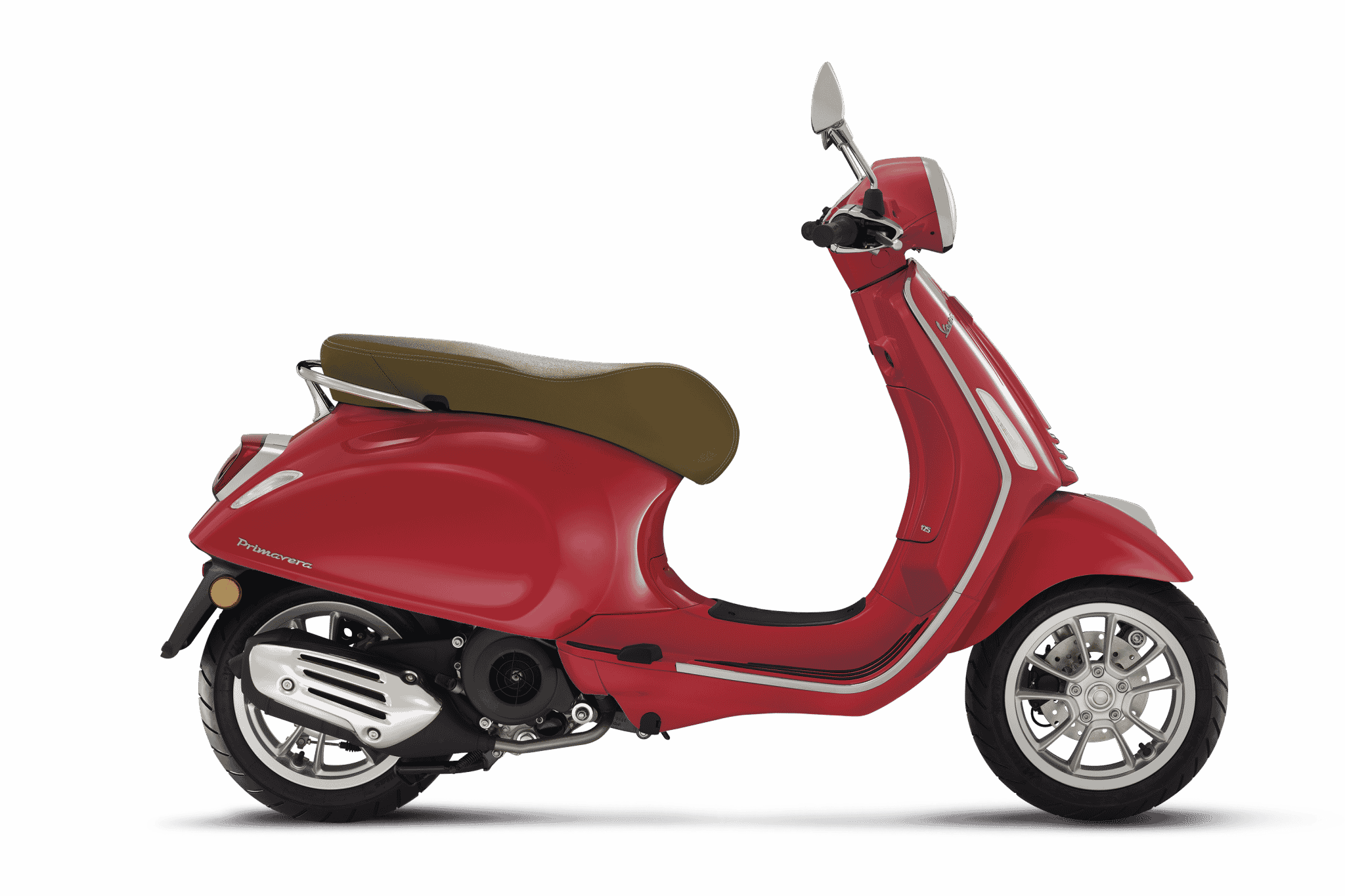 The Vespa Primavera debuted in 1968 and is considered a modern classic. Currently, you can choose from eight different Primavera models. 
The cheapest is the Primavera 50, which costs $4,149 without add-ons. It has a 50 cc engine and can reach top speeds of 30 mph (miles per hour). You can also get a more expensive 150cc engine variant. 
 On the other hand, the most expensive model in this range is the Primavera 150 Pic Nic. It retails for $5,999 (without add-ons), has a 150cc engine, and can reach top speeds of 60 mph.  
Vespa Sprint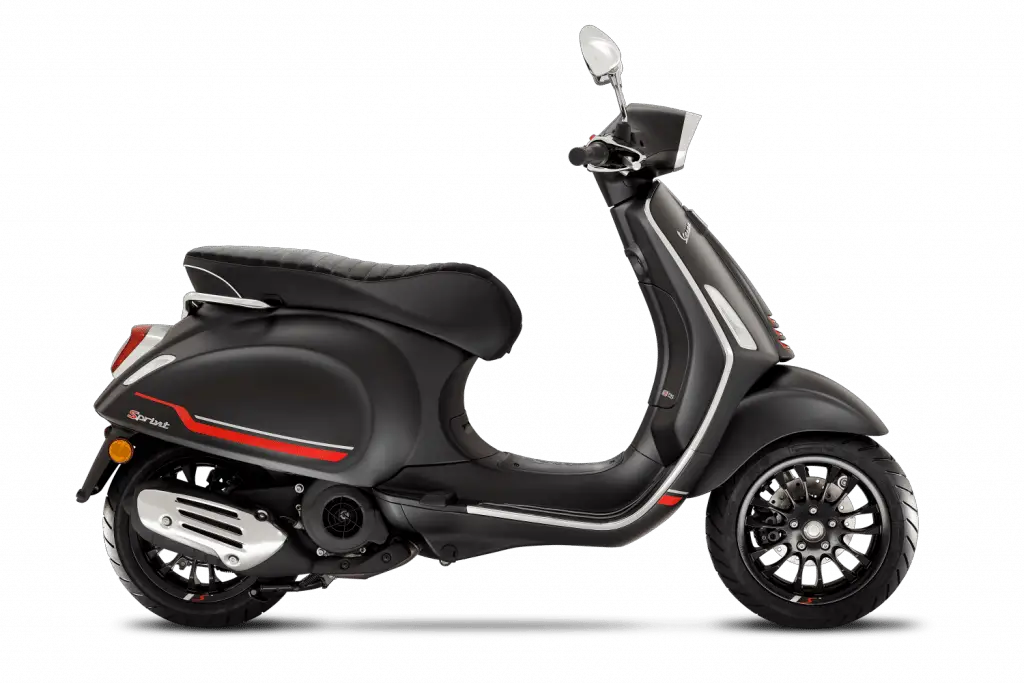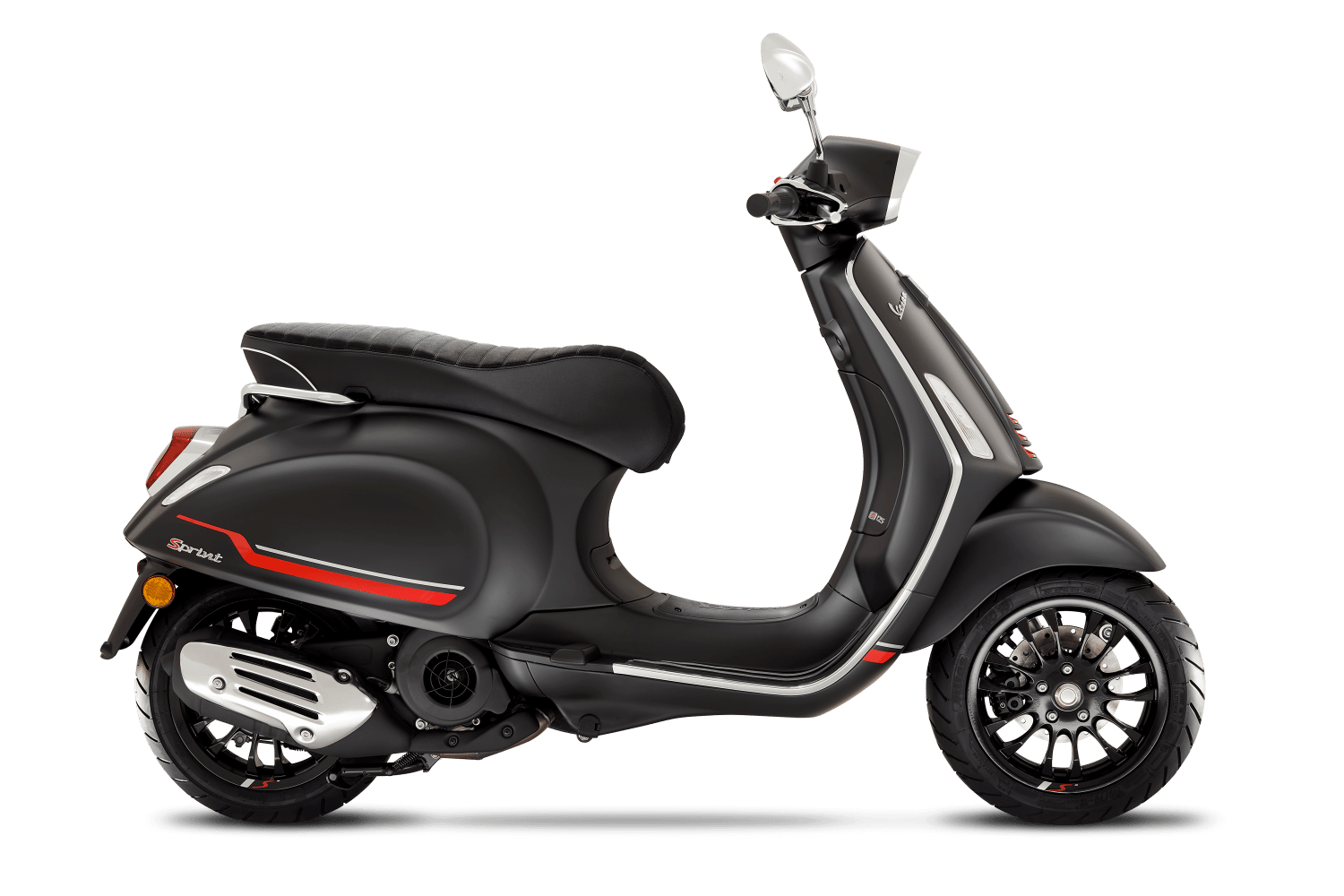 The Vespa Sprint is a lightweight, sporty scooter with many tech features. According to the company, this Vespa range focuses on a smooth ride and produces the least amount of noise possible. 
You can choose from seven different Sprint models currently available. The cheapest is the Sprint 50 No License which costs $4,099 without add-ons. It has a 50cc engine and reaches top speeds of 30 mph. It is also available in a 150cc version. 
The most expensive model in this range is the Sprint Justin Beiber or the Sprint Sport 150, which costs $6,549 plus add-ons. It features a 150cc engine and can reach top speeds of 60 mph. It is also available in a cheaper 50cc version.
This model is a collaboration with singer Justin Bieber.
Vespa Elettrica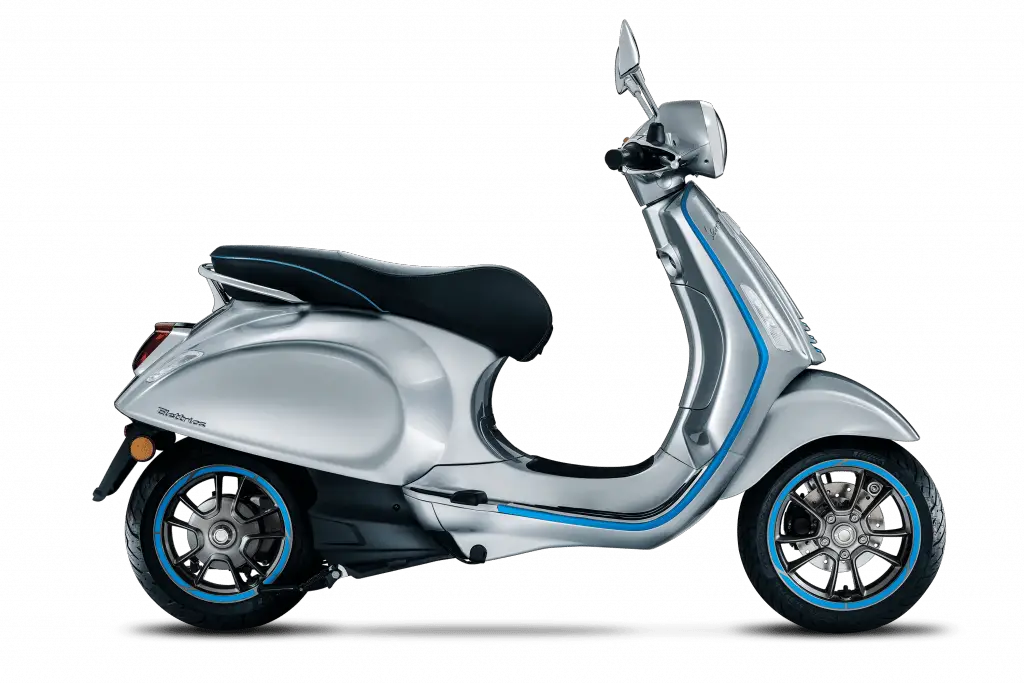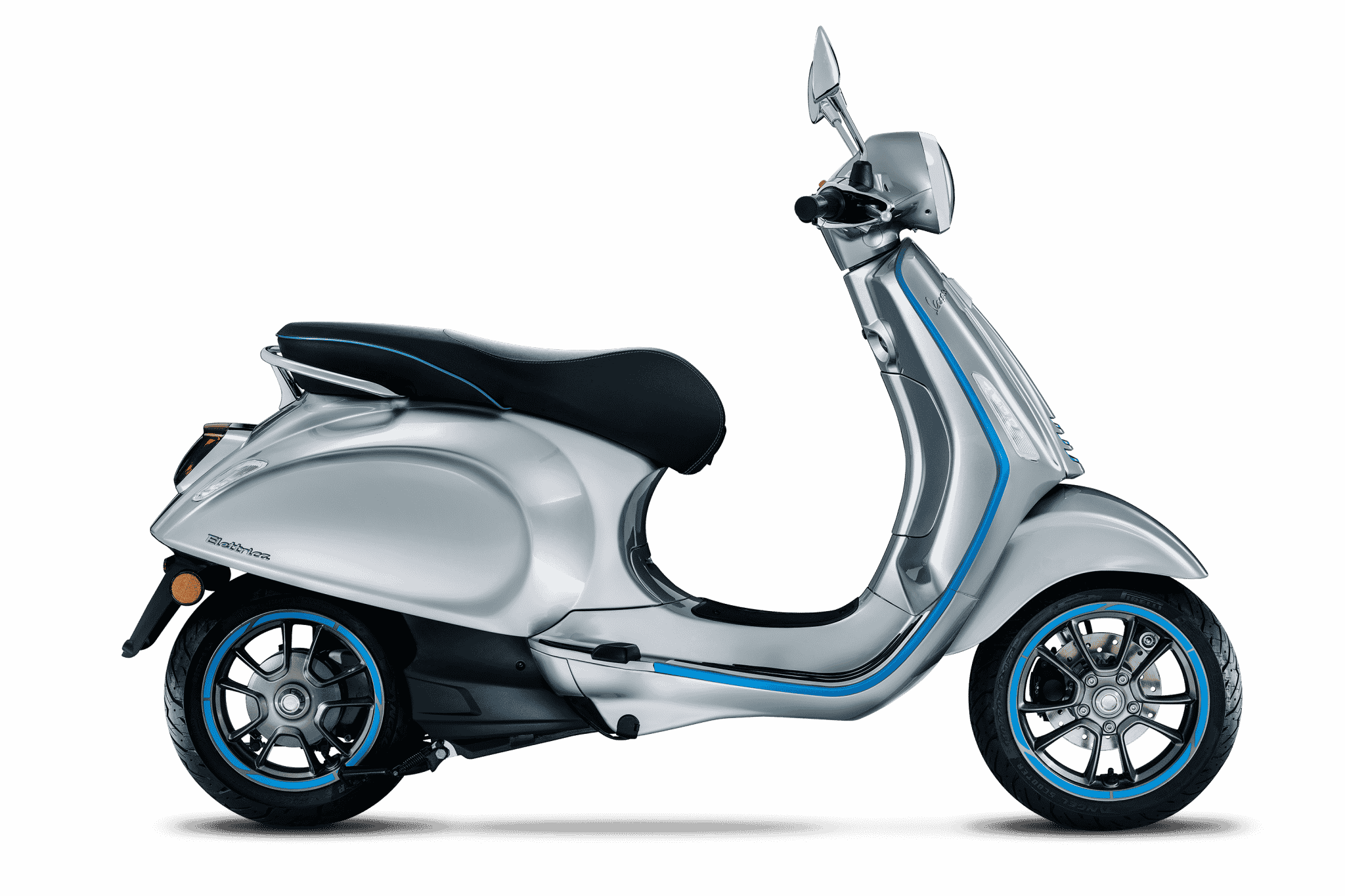 Vespa's electric scooter range became available in the US in 2019. Vespa Elettrica combines the company's style and history with eco-friendly technology. The Elettrica has an electric motor, and the company says that its battery will require no maintenance over the life of the scooter.
Two versions of this ​​neat modern electric scooter are currently available. The first is the Electtrica (Red) which costs $8,049 without add-ons. It has a 4kW (50cc equivalent) engine that takes 4 hours to charge and can reach top speeds of 45 mph. The second is the Elettrica 45 mph which starts at $7,949. Its engine is similar to the one above. 
The Vespa Elettrica (Red) was launched in collaboration with the RED Association, a charitable organization. 
Vespa GTS 300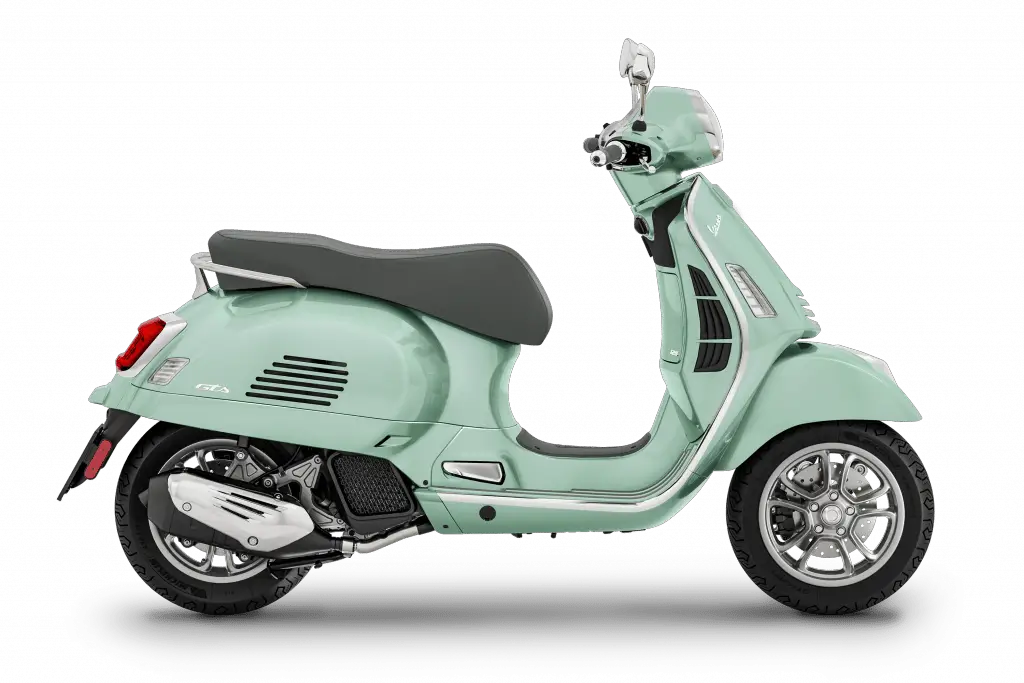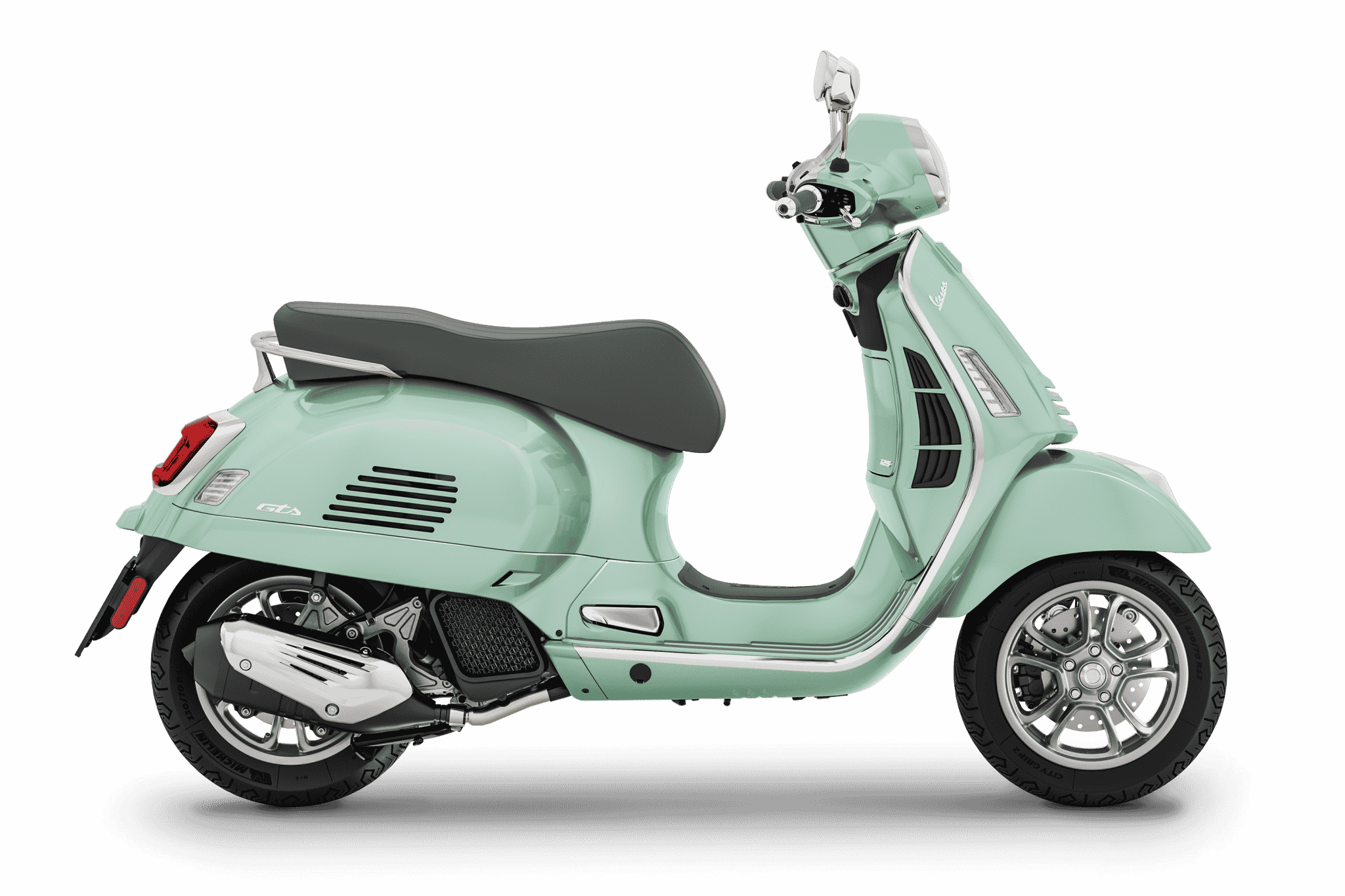 The Vespa GTS 300 range has models with Vespa's most powerful 300cc engines. Vespa offers five scooters in this range in the market currently. 
The cheapest is the GTS 300cc HPE. It starts at $7,099 and can reach an estimated top speed of 80 mph. HPE stands for "high-performance engine ."The most expensive model in this range is the Vespa GTS Supertech 300, and its latest price starts at $7,949. It can also reach top speeds of 80 mph. 
Vespa Sei Giorno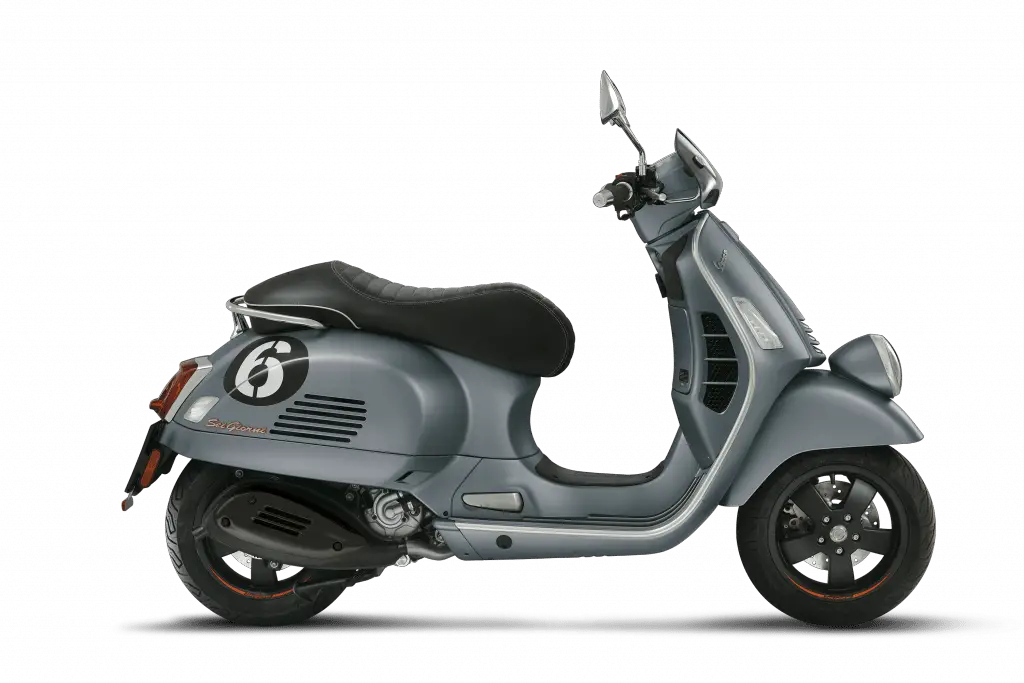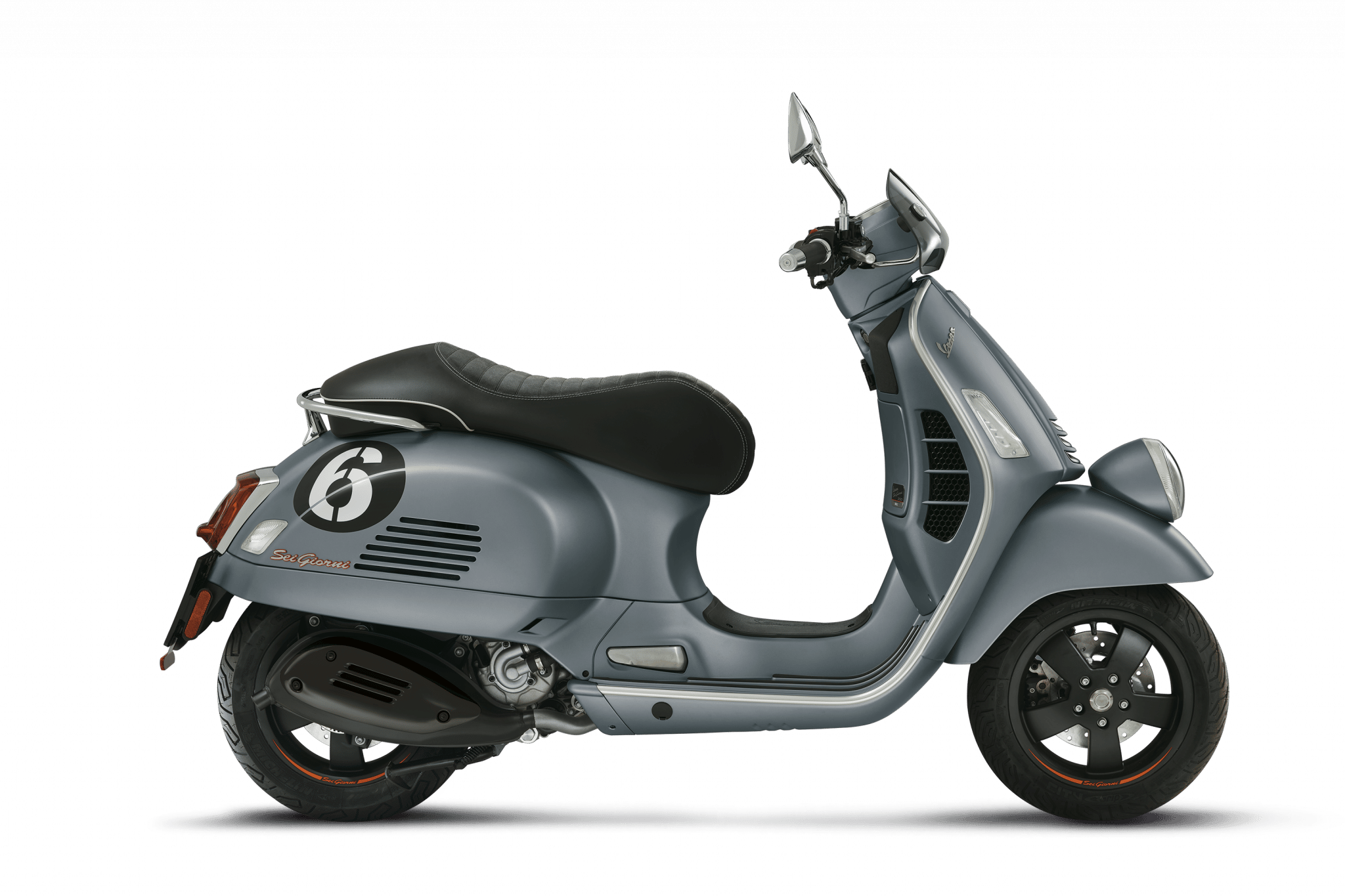 The Sei Giorni is a special model that blends contemporary and retro styles. It pays homage to the original Vespa Sei Giorni, which raced in and won 9 gold medals at the 1951 International Six Days of Varese race. It was first offered in 2018. 
This model has a powerful 300cc engine and can reach top speeds of 80 mph. Its price starts from $7,749. 
Other limited editions and collaborations
As an iconic brand, Vespa also offers limited-edition models and collaborations with celebrities. For example, in 2021, Vespa created a limited special edition model with the French fashion house Christian Dior called the Vespa 946.
It is considered to be the most expensive Vespa model worldwide, and its retail price is $22,000. However, only 946 units were produced, and currently, it is sold out.
Additional costs of buying a Vespa
While considering which Vespa price suits your budget, it is also important to factor in its final actual sales price or the out-the-door price. This includes transportation, registration, and insurance costs.
In the US, you can check and buy your Vespa online. However, you will still have to go to the nearest Vespa dealership nearby to pick it up or get it delivered to you. 
If you are getting it delivered, you will have to pay for transportation charges. Transportation could cost $500 and can go above $1000, depending on your state. Purchase negotiation with the dealer can help knock the price down. 
You will also need to pay sales tax, which is mandatory in all states except for Oregon, New Hampshire, Montana, and Delaware. States such as Tennessee and Louisiana have high sales tax rates of almost 10%. 
Then, you need to register your Vespa, the cost of which varies from state to state. Oregon has the highest vehicle registration fees in the US (starting at around $250), while Alabama has the lowest ($8). 
Read this if you are buying a Vespa and wondering if you need a motorcycle license to drive a vespa.
It would be best if you also got insurance for your new Vespa, which can start as low as $250 per year. Additionally, purchasing good quality safety gear, such as helmets, is important.
All in all, keep aside at least $2000 more than the base price of the new Vespa you are eyeing. 
Maintaining your Vespa
Considering the premium price, you would pay for a Vespa, you will wonder if you are making the right choice as a potential buyer. Would it be costly to maintain it in the long run? 
Vespas are well known for being low maintenance.

So, if you do it well, maintaining it will cost less or be at par with cheaper motor scooters.
To know when to service your Vespa, download your own service schedule or take a look at your usage and maintenance manual/log. It would be best if you also got it checked every six months.

If parts need to change, you should also buy only genuine parts so that they last.

You also run the risk of voiding the warranty if you use non-Vespa approved spare parts.

The most expensive maintenance a Vespa would require will be its steel frame if it gets damaged. But that's a scenario that won't go down unless there happens to be an accident.
The pros and cons of buying a Vespa scooter
While its fashion and style can make it the right choice, Vespa scooters are also well known for their high-quality build and low maintenance. They are considered to be Italian legends among modern-day scooters. 
These two-wheeled vehicles are known for being easy to handle while offering superior performance and modern tech features.

All Vespa scooters are automatic transmissions, so there is a low learning curve for new scooter owners.

Vespas are also known to have an astonishing average fuel economy of up to 115 MPG (miles per gallon). 

Side note: My superbikes give me no more than 40 MPG ????.
On the other hand, it does come at a higher price than other scooter brands with similar specs.
Brands like Yamaha and Honda offer scooters that can be more affordable modes of transport.
For example, the Honda Activa 125 is a popular model of scooter. It can reach top speeds of about 55 mph (similar to a Vespa GTS model), but it costs only $1077. It is suitable to be used as a normal everyday scooter.
But of course, price does not need to be a hurdle as you can also buy a used Vespa scooter. Vespa scooters also have higher resale value than other scooters. 
It is also important for you to understand why you are buying a Vespa model. If you plan to travel far, then a cheaper scooter with a smaller engine is best. So, it would be best if you were ready to spend more money on a higher-priced Vespa, depending on your needs.
Conclusion
Choosing a Vespa is not just looking at its face value – it is so much more than that.

Owning and riding a Vespa is a sub-culture within the scooter community itself.
What better place to ride a Vespa than in the streets of Italy itself?

Why should you have to choose between functionality and style when you can have both with a Vespa!