You are in the market for a used motorcycle. You have been tracking online ads for a while, and suddenly, a deal comes along, and it looks great — perhaps a bit too good!
Yes, you guessed that correctly. I am hinting at the possibility of a shady deal.
Bike theft is on the rise, and since you are not buying a new bike, you could potentially be sold stolen goods!
Suppose you suspect the motorcycle you are buying might be stolen. In that case, you can have its Vehicle Identification Number (VIN) checked, along with the Title.
Additionally, an appropriate authority can check the engine number for verification. 
The engine number is typically found at the bottom of the cylinder casing on either the engine's right or left side.
How to know if the motorcycle that you are buying has been stolen?
There are several ways to determine if you are being sold a stolen motorcycle.
If you have been buying second-hand bikes, you already know that checking the VIN and the Title is crucial and not optional.
The rest of the points I am making will help you get a better overall picture. DO NOT compromise or overlook the VIN code check and availability of a clean Title!
1. Checking your motorcycle's VIN code
The Vehicle Identification Number, known as VIN in short, is unique to each motorcycle sold in the United States.
It's a good idea to always check the VIN first.
This number physically can be found at least in one place on the motorcycle. On most motorcycles, the VIN is generally stamped on the right side of the headstock tube through which the forks pass. Here are two photos of where the VIN on my Kawasaki ZX10R is.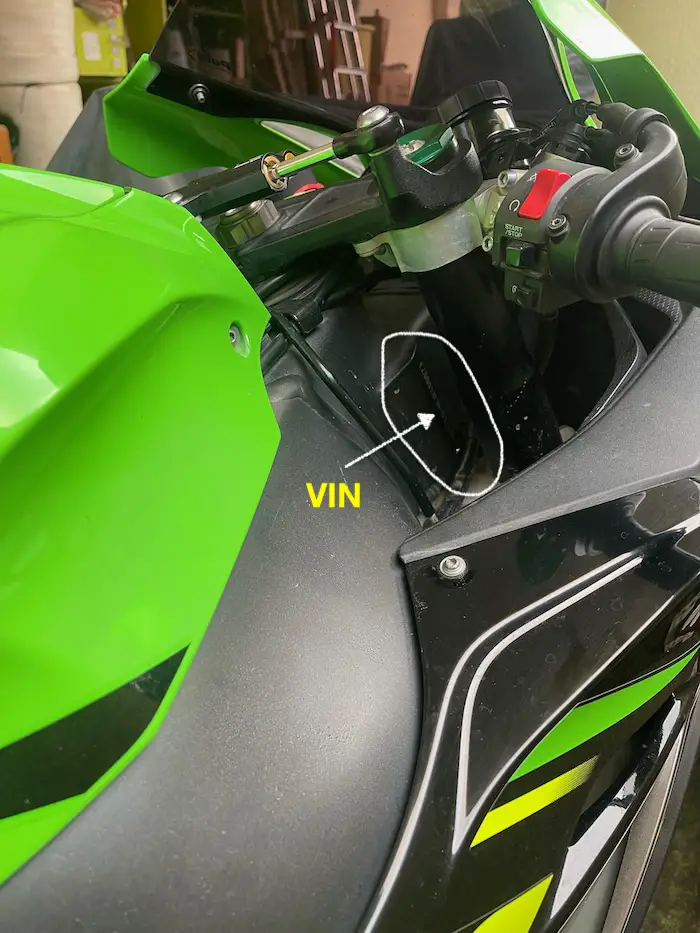 Additionally, it can be found on the sticker, which is also on the upper right-hand side of the frame. It is usually right next to the gas tank.
This VIN is a 17-digit code composed of numbers and letters from the English alphabet.
Note: I have heard folks say that a Dirt Bike doesn't have a VIN. That is simply not true!
Now that you have the motorcycle VIN number, you can run a free VIN check online or in the local police department or ask a traffic cop.
Please note that running it online is perhaps your best bet. It is both convenient and safer. Suppose you were to run the VIN in a police station or by a traffic cop. And let's assume the report returned saying the motorcycle was stolen; where would that leave you?
As anyone can imagine, the cops might have a few questions! And what if you get detained on suspicion? Think about that!
Also, a traffic cop may not be obligated to run the VIN lookup for you. Again, just run the VIN of your motorcycle online. Easy peasy!
The National Insurance Crime Bureau website provides a free VIN check tool. On the NICB website, head over to this link https://www.nicb.org/vincheck.
The VIN code check will return the following details about the used motorbike.
Make
Model
Engine Capacity
Country of manufacture
Accidental records
Salvage records
The previous owner, even if it has been sold multiple times all the way to the original owner
Odometer records
Lien/Loan records
Stolen bike check / Theft records
While a free motorcycle VIN check will give you the basic information, you will need to pay a small fee to access detailed information. I would pay for it (you should too)!
Once the VIN report is generated, check especially for items 5 through 10 in the list above.
Important note ????: When you read the VIN code on the motorcycle, please check that against the VIN on the Title. Check all 17 characters. They must be exactly the same. If they don't match, it is a serious red flag. Refuse to proceed further before this is cleared up.
2. Checking the Title of the motorcycle
If the VIN checks out fine, then the next step is to ensure the Title is in order.
If there is no Title, there is no deal. As simple as that. This is again a red flag and a cardinal error.
I would 100% stay away from folks who can't produce a Title for their motorcycle. In most cases, when someone can't produce a Title, it is because the motorcycle is still on loan/lien to a financial institution or the bike is stolen.
Just think for a minute with me: why would someone not have their Title on them? Why would they not want to bring it with them?
Make sure you clear this up with the seller! They must produce the Title and provide any Lien hold information on the Title.
If there does happen to be Lien hold on the Title, then you can do one of the following:
Ask them to pay off the loan. Clear the Title of the lien holder and then have it transferred to you. (I would always take this route!)
If you decide to buy the used bike with an existing lien, then make sure the seller gets written permission from the lender to permit the transfer of the Title.
On a side note, are you trying to buy a motorcycle but have a bad credit score and can't? Well, there is hope. You may still be able to get a motorcycle loan despite your bad credit rating and score, here's how ????.
3. Checking for Inconsistencies
If you have been around motorcycles for a while, then you should be fine (mostly). From being in the motorcycling world, comes experience. For example, I know the difference between 2016, 2018, and 2021 Kawasaki ZX-10R. And I those differences for lots of Kawasaki crotch rockets and superbikes.
I can look at them from afar and tell you which one is and what to expect, say fairing-wise, graphics-wise, instrument cluster panel-wise, stock tire-rims-wise, and other details.
That comes from being in the motorcycling world. So, if you have hung around motorcycles for a bit, you know what certain models look like and feel up close. You also have a general sense of what to expect from a certain manufacturer.
For example, Ducati, M V Augusta, and BMW have an extra premium fit and finish about them — just a tad bit more than Japanese bikes in general.
So when you see a bike and see that some things on it look like they don't belong, chances are that those are clear signs of it being a stolen motorcycle.
Stolen bikes may have missing original parts replaced with cheaper knock-offs! 
Take the bike for a test ride and see how it behaves. Listen to the sounds and try the electronics. Get a sense of the overall ride quality. If in doubt, ask and probe. If necessary, consult a mechanic to perform the test ride on your behalf.
4. Listen to your gut and DON'T ignore the signs.
Don't ignore your intuition and gut feeling. Folks selling you a stolen vehicle will leave hints and cues more often than not. Don't overlook these signs.
Here are questions to ask yourself.
Does the seller have shifting stories?
Is the seller a bit edgy?
What is this person's body language telling me?
Is he hesitant to have the bike checked out?
Does this person appear to be under too much stress?
Is this person in too much of a hurry?
Is this person avoiding eye contact?
Is this person taking undue advantage of the fact that we may need to wear masks at certain times and in certain places, during COVID? Is he wearing masks and shades to hide his face and COVID is an excuse?

I hope you catch my drift. You need to have a heightened sense of awareness and watch out for anything that seems uncommon or strange or triggers your thinking and gut!

Our intuition is a million bucks. It's one of the most sophisticated capability that we have! Make full use of it!
What to do if you learn that a motorcycle that you are about to buy is stolen?
Let me start by asking you, if your motorcycle was stolen, wouldn't you want it found and returned?
You bet!

Superbike Newbie
So, if you find a stolen motorcycle see what you can do to get it back to its owner!
Here are practical steps to take: If you suspect fraudulent activity, go ahead and contact the NICB at the phone number or their online contact form below:
???? 800.TEL.NICB (800.835.6422)
You can also contact your local police station and inform them.
Conclusion
It's great to look for a bargain and get the most bang for your buck. But don't let the temptation of something that appears too good to be true fool you.
It might not be a bargain at all, but quite the opposite.
Do your due diligence so that you can avoid being duped!
If you have a real story about how you uncovered a motorcycle theft and prevented fraud, I would love to hear it in the comments below!
See you in the next one ✌️!