Outlaws MC history
Outlaws MC is one of the largest outlaw motorcycle clubs in the world and the historic arch-rival of the Hells Angels. It is one of the Big 4 one percenter motorcycle clubs, along with the Hells Angels MC, Bandidos MC, and Pagans MC.
It is incorporated as the American Outlaws Association (A.O.A.). This is a counter-organization to the A.M.A. (American Motorcycle Association).

According to the Department of Justice, the Outlaws MC should be considered to be a part of criminal organizations as it is a Outlaw Motorcycle Gang (OMG). 
Founding of the club
It was founded in 1935, out of Matilda's Bar on old Route 66 in McCook, Illinois, just outside Chicago. Outlaws MC was initially known as the McCook Outlaws Motorcycle Club.
Outlaws MC over the years
First Major Post-War Event
Over the next few years, the club existed but with limited activities, especially during World War II. Then, in May 1946, they held their first major post-war motorcycle event at Soldier Field in Chicago.
Name change – Chicago Outlaws
After the War, the club grew in size, getting many new members. So, in 1950, the club moved out of McCook and re-established itself in Chicago. It also changed its name to "Chicago Outlaws." 
Becomes a true 1%
Then, in 1963, the Outlaws became the first true 1%er Club east of the Mississippi. 
Outlaw Nation Formed
A year later, on the 4th of July, 1964, the "Gipsy Outlaws" from Milwaukee became the second chapter to join the club. This was followed in August by another club, the "Gypsy Outlaws" from Louisville (not connected to the one from Milwaukee). Then, the "Outlaw Nation" was formed with Chicago as the Mother Chapter.
American Outlaws Association
On January 1, 1965, the A.O.A. – American Outlaws Association – was born. 
First Florida Chapter Sanctioned
In July 1967, Outlaws MC's National President and a few more members sanctioned its first chapter in Florida.
First International Chapter
1977 was also another big year for Outlaws MC. It was the year it established its first chapter outside the U.S.A. On July 1, 1977, several Satan's Choice chapters under the leadership of Garnet McEwen "patched over" to join the Outlaws. 
First European Chapter
Then, in 1993, it established its first European chapter in France. This was followed by Norway in 1995. 1995 was also the year the MC's Chicago chapter split into three groups – the Mother Chapter (Southside), Westside, and Northside.
First Asian Chapter
In 2001, the first Asian chapter was established in Thailand.
First Official Support Club
In 2002, Outlaws MC got its first official support club. Called the Black Pistons MC, it was first established in Germany. Black Pistons MC also soon appeared in countries like the U.S.A., Canada, Great Britain, Poland, and Norway.
70th Anniversary
In 2005, the Outlaws MC World celebrated its 70th Anniversary as a Motorcycle Club and its 40th Anniversary as the A.O.A.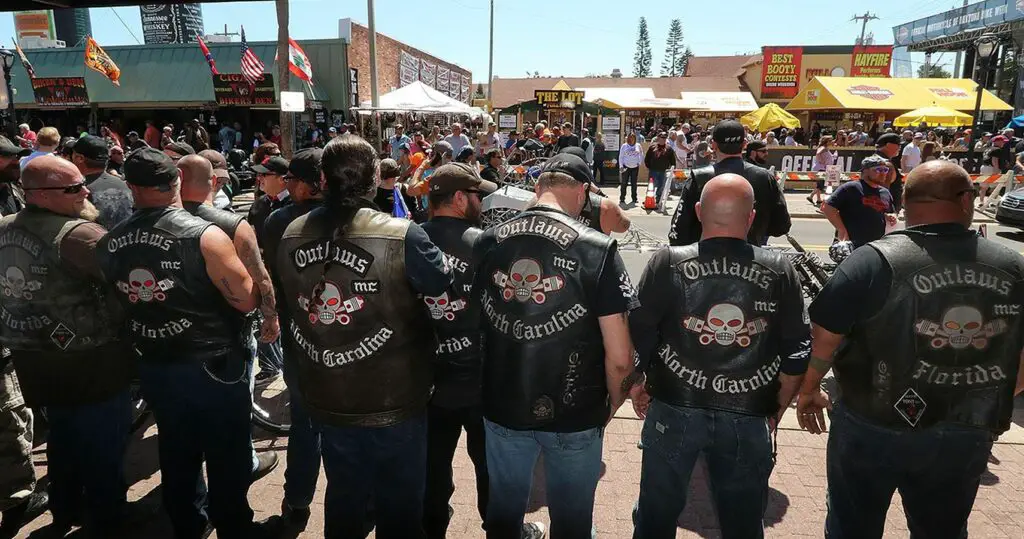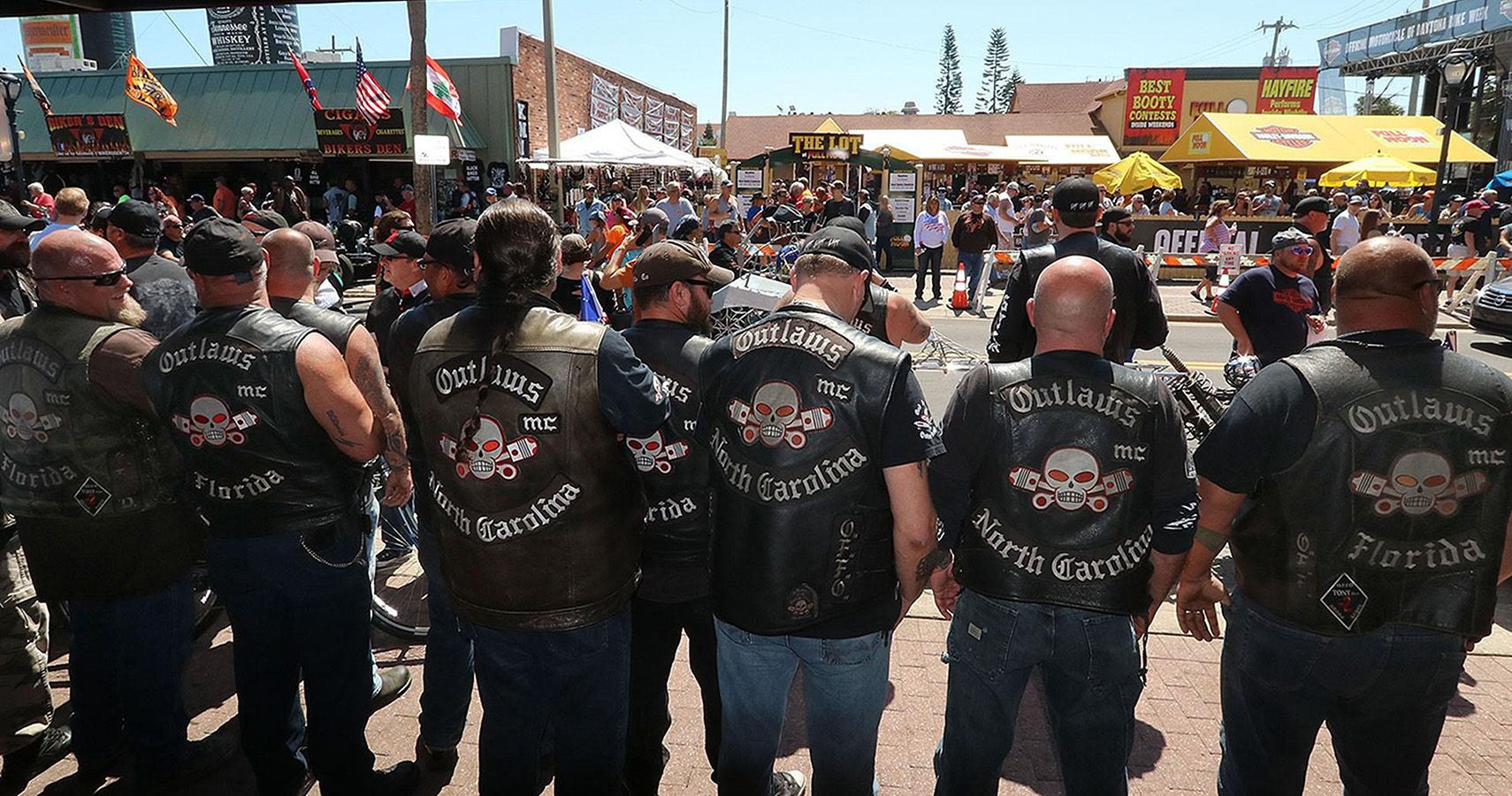 Club colors and patch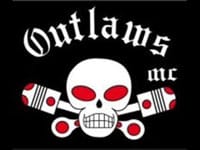 Outlaws MC's logo consists of the words "OUTLAW MC" above a human skull positioned in front of a pair of crossed pistons. The skull and pistons in the logo are known as "Charlie."
History and evolution of the patch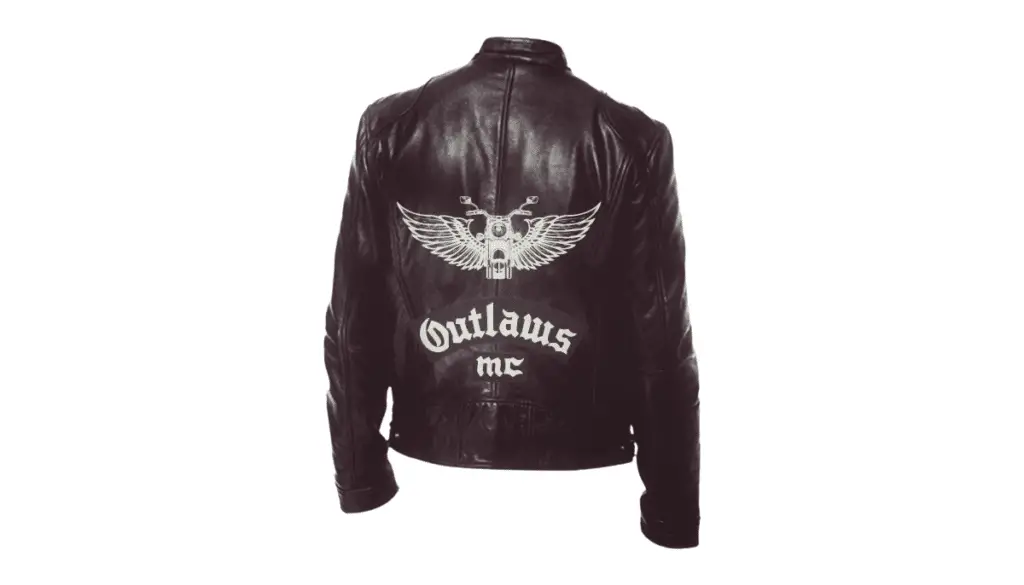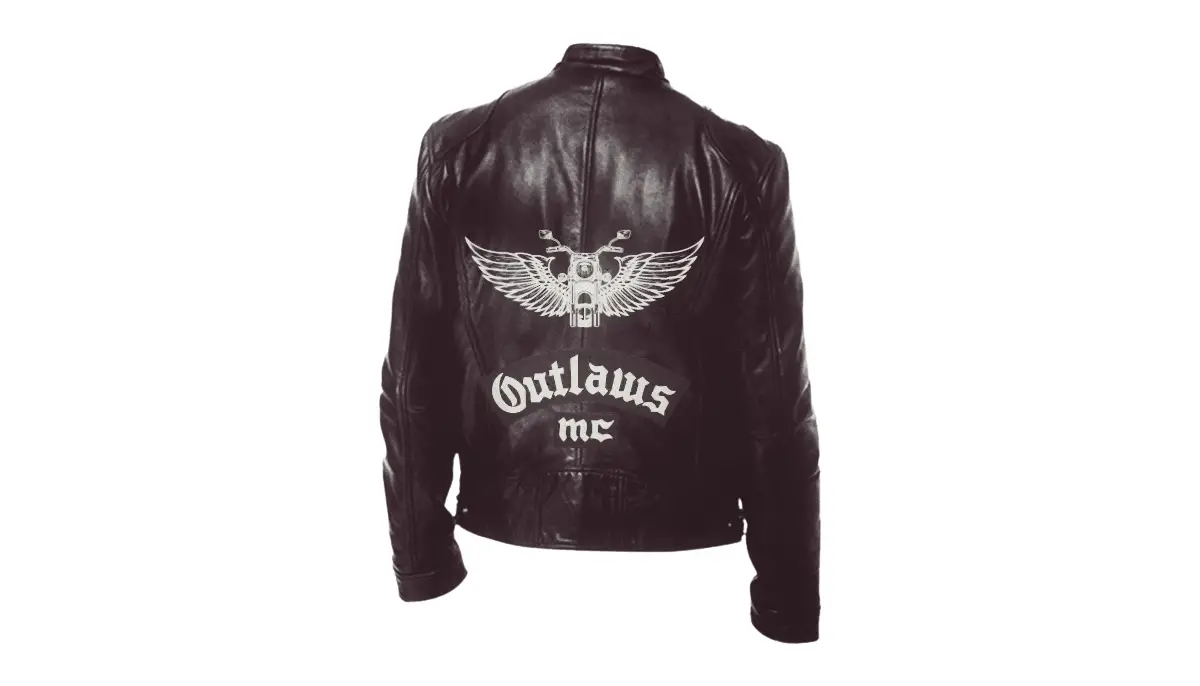 When the club first started in 1935, its logo was a winged motorcycle and old English-style letters.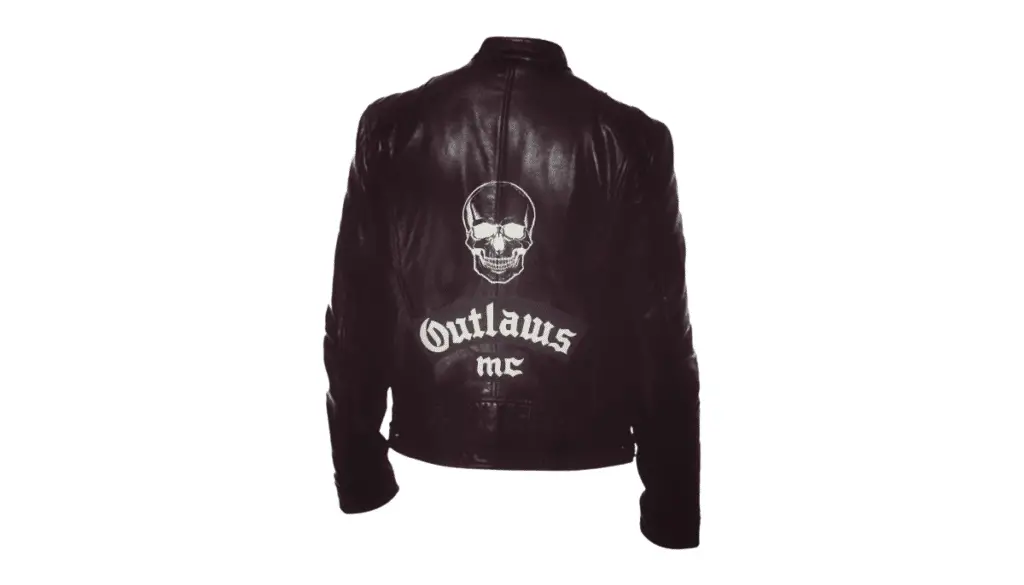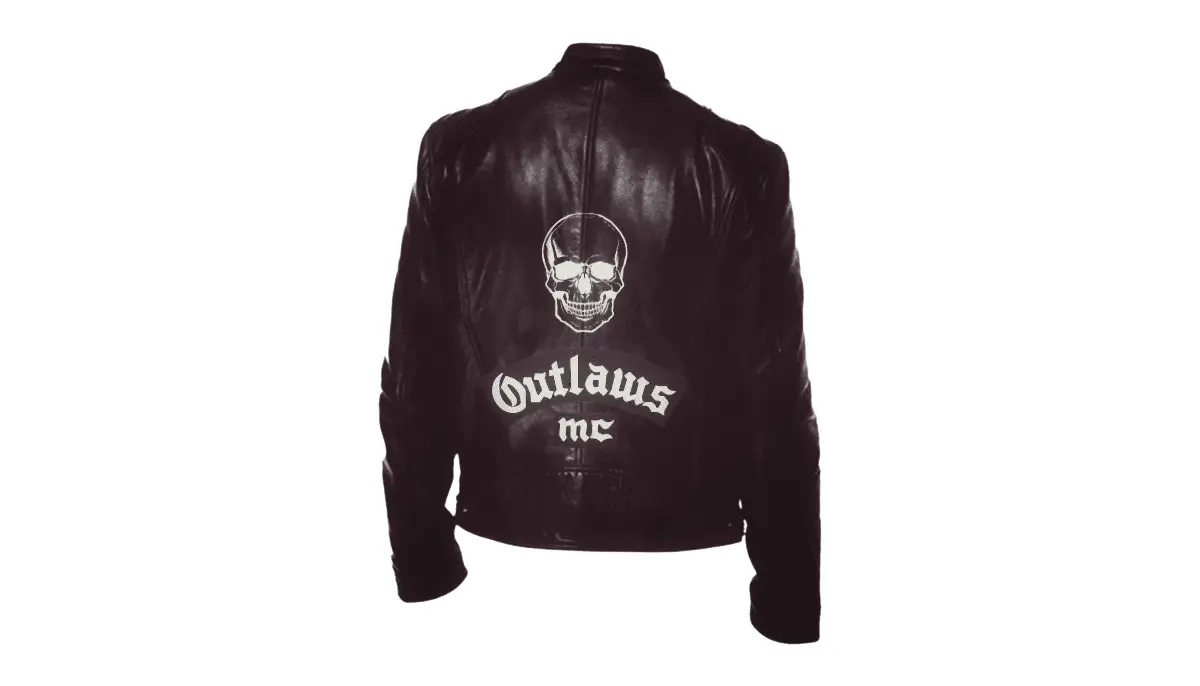 Then, in 1950 the logo changed. A small skull replaced the winged motorcycle. And it became popular for an Outlaws Motorcycle Club to get the logo embroidered on black shirts and hand painted on leather jackets.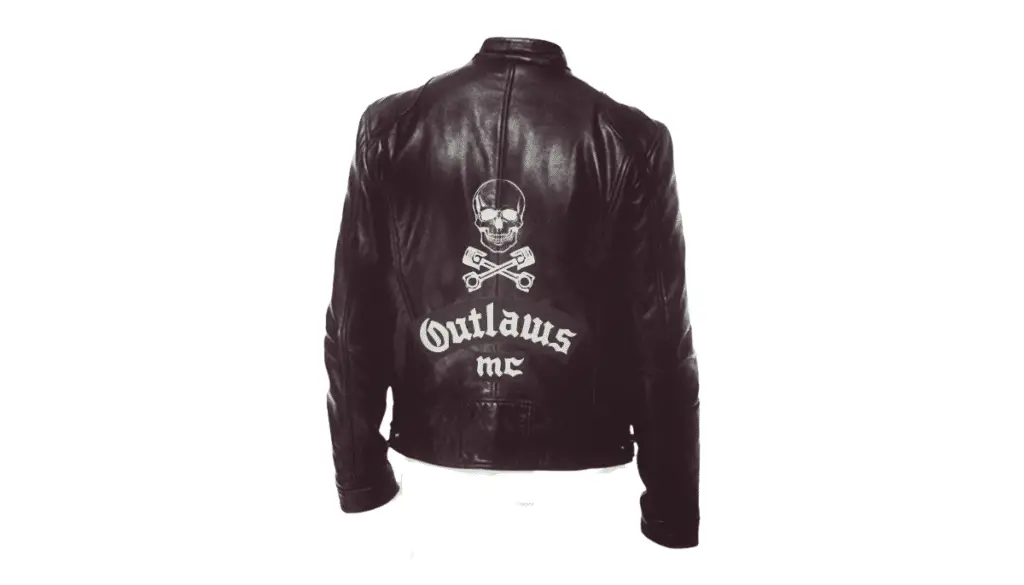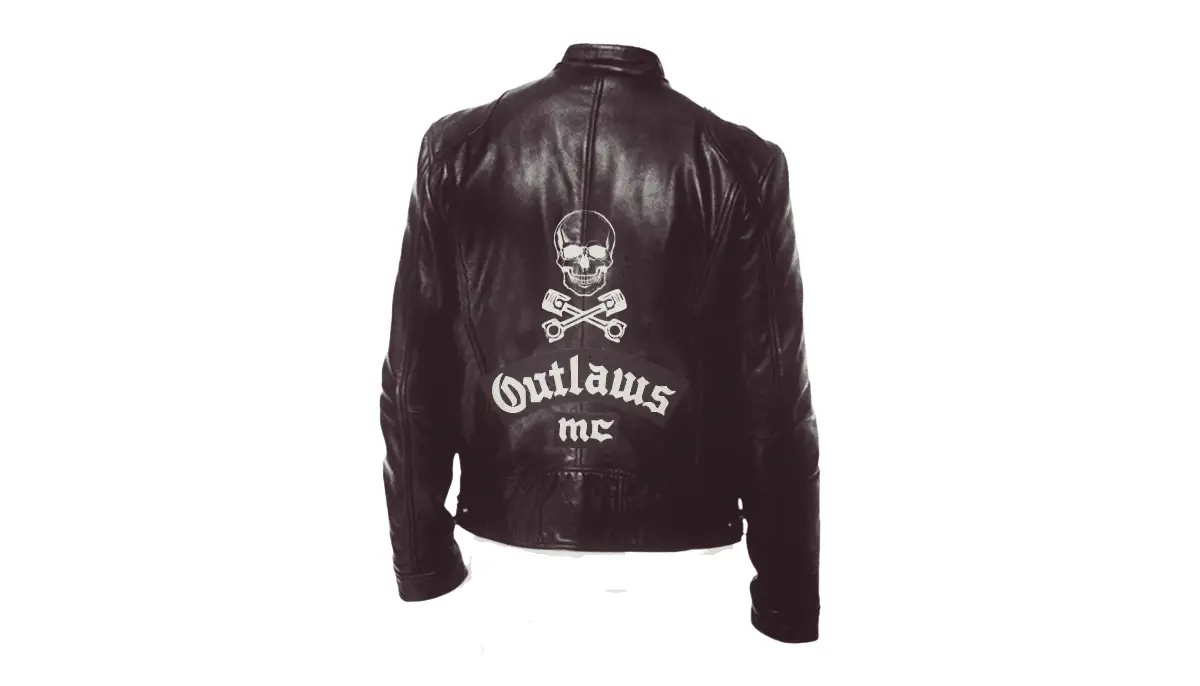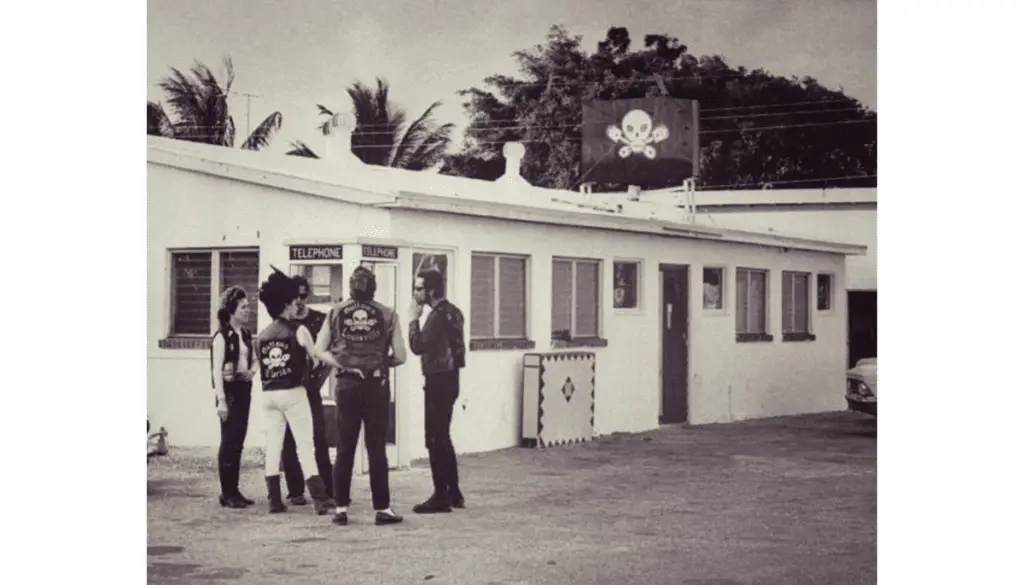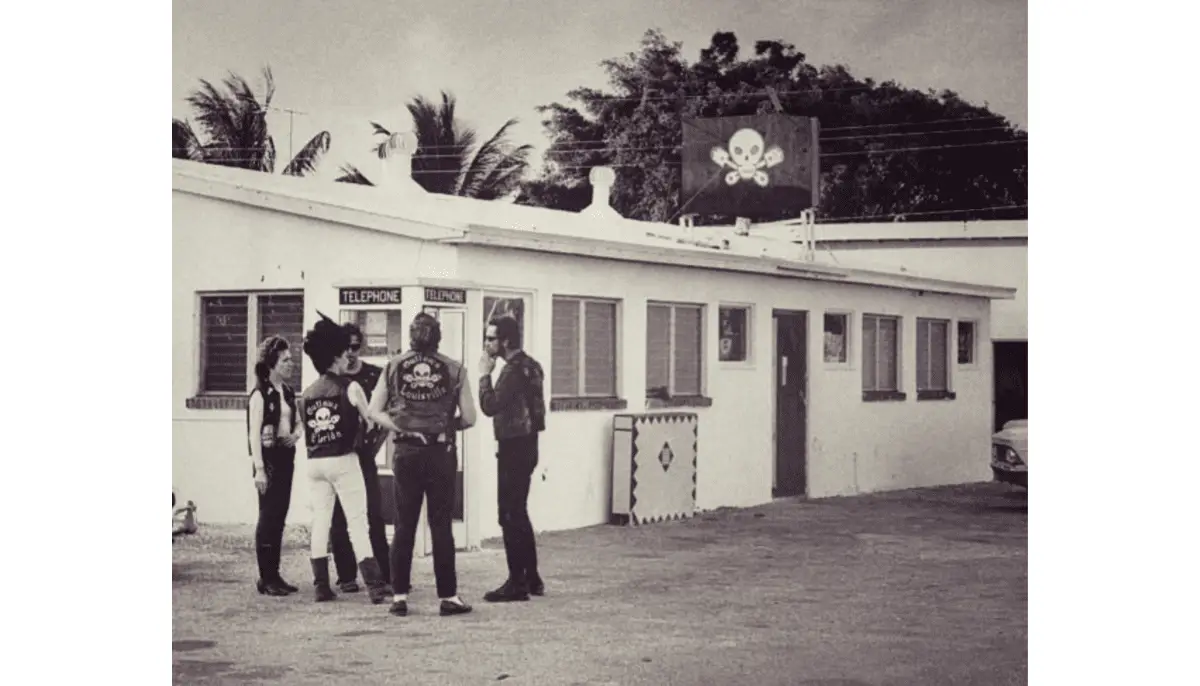 In 1954, a set of Crossed Pistons was added to the small skull. This time, the design was embroidered on black western-style shirts with white piping.

The biker movie The Wild One, starring Marlon Brando, influenced this backpatch. You can watch the movie's trailer on Youtube or buy it on Amazon.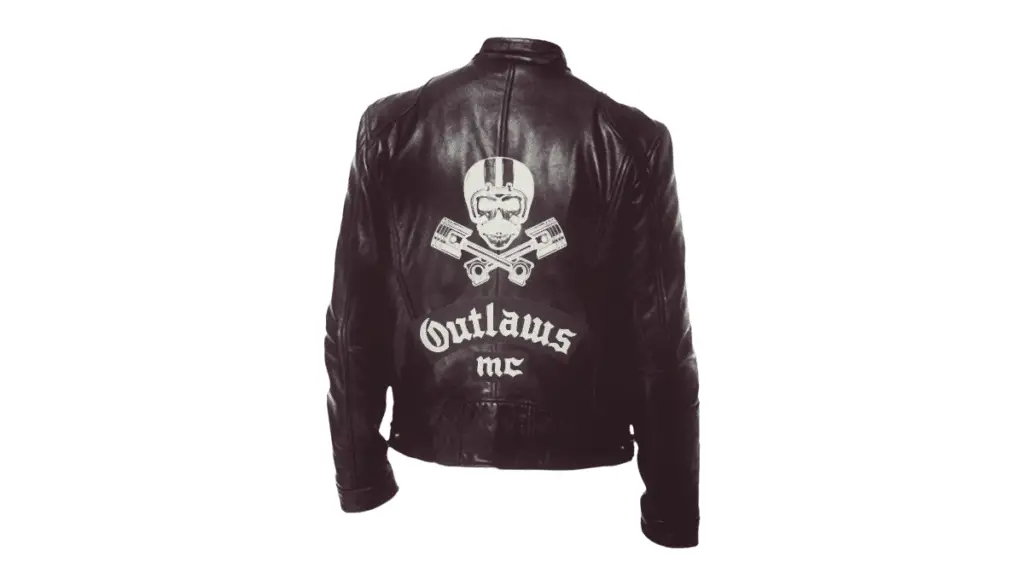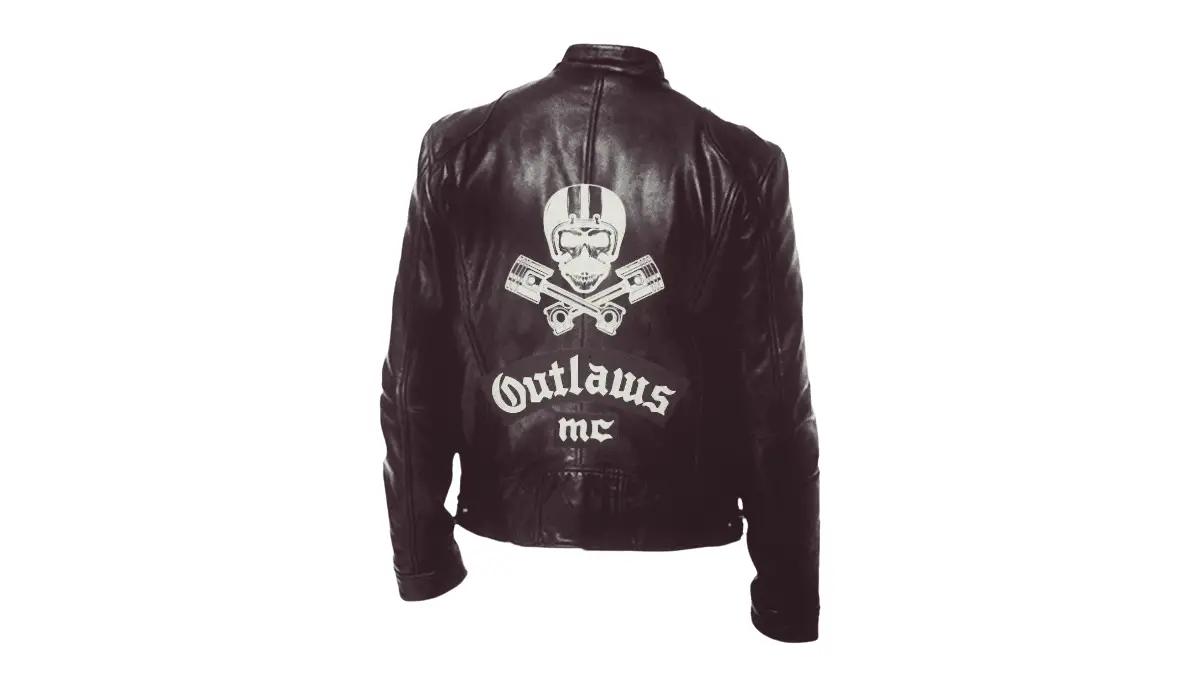 Then, in 1959, the Skull and Crossed Pistons were redesigned, making them much larger with more detail.
Between 1960 to 1963, Outlaws MC members who raced wore an "O.M.C." on their outfits. This was in response to the A.M.A.'s ban of the word "Outlaw" from all race clothing.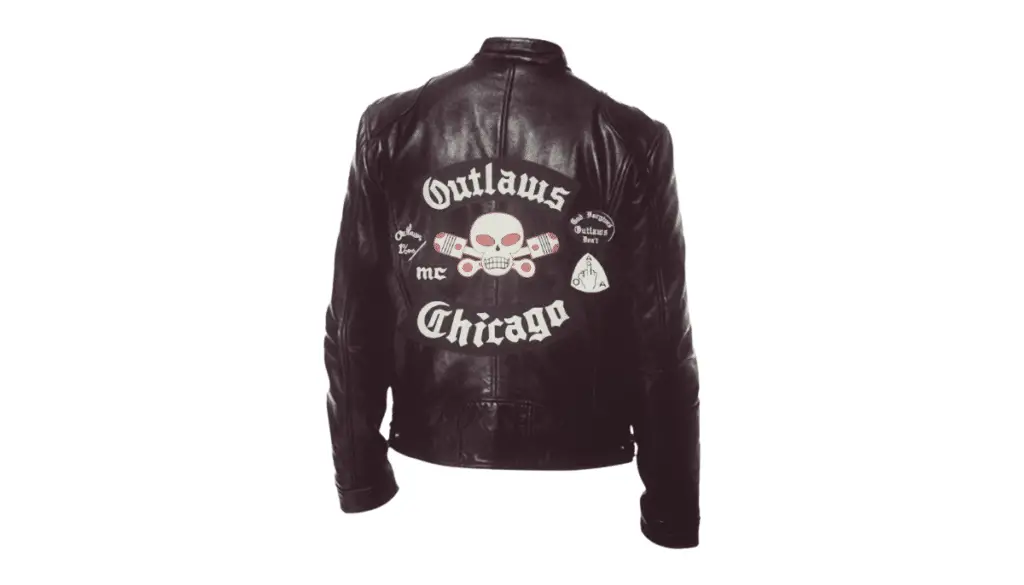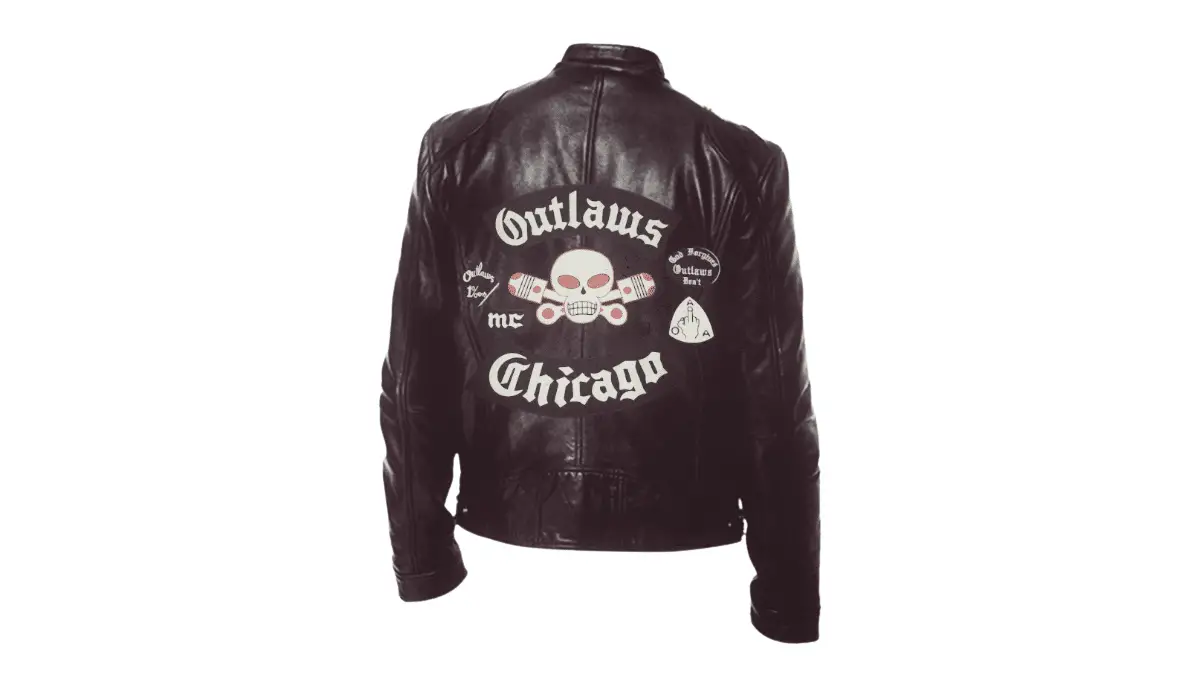 In 1965, Outlaws MC as A.O.A. also adopted a new logo. The logo is the same shape ad the A.M.A.'s, except it has "A.O.A." on it (one letter in each corner). And a fist showing the middle finger in the center.
In 1989, the MC added the abbreviation "MC" to their backpatch.
Motto
Outlaws MC's motto is "God forgives, Outlaws don't "(G.F.O.D.). It was adopted in 1969.
Inner workings of the club
Who is part of the current leadership?
Law enforcement believes that John (Tommy O) Ermin is the current International President of Outlaws MC. 51-year-old Ermin is the dayshift general manager at Pharoah's Gentlemen's Club in Cheektowaga, New York. The club is owned by the nephew of Buffalo Mafia don Joseph (Big Joe) Todaro, Jr. (Source).
Which states and countries are they in?
Law enforcement agencies estimate that Outlaws MC has more than 1,700 members worldwide. However, this estimate may need to be corrected. The actual number could be much higher. The MC does not advertise its activities or membership. Most initiations are secretive, so the real numbers remain unknown despite the MC being so famous.
The MC is believed to have some 176 chapters spread across the U.S. As per the Outlaws MC website, the MC has the most chapters in Florida, Illinois, Ohio, and Wisconsin. 
It also has chapters in many foreign countries, including France, Australia, Ireland, Japan, Norway, and Russia.
The notoriety of the club
What do law enforcement agencies say about them?
They are one of the big four 1% M.C.s in the U.S., associated with many illegal and criminal activities. However, the MC denies many of the allegations saying that just because some members are criminals, it doesn't mean that the organization is a criminal organization as a whole.
Criminal activities they are most associated with.
The MC is associated with many criminal activities. They include money laundering, extortion, murder, dealing with illegal drugs, and many more. 
The United States Department of Justice has stated that the Outlaws have been criminally associated with the Chicago Outfit. The Chicago Outfit, or the Chicago Mob, is an Italian-American organized criminal enterprise and crime syndicate based in Chicago, Illinois. It is part of the larger Italian-American Mafia. Source
On July 11, 2012, U.S. Marshals raided the Indianapolis Outlaws Chapter clubhouse. They arrested 42 members for crimes ranging from mail fraud to money laundering. Source
On August 24, 2009, 15 members of the Outlaws Philadelphia chapter were arrested in connection with a methamphetamine ring. Those arrested included chapter president Thomas "The Boss" Zaroff and Lonzo "Death Row." Source
Relationships with other 1% M.C.s
Who are they rivals with?
Outlaws MC is arch enemies with the Hells Angels. There have been numerous violent incidents between the two till now. The story of how their rivalry started needs to be clarified and keeps changing. But the feud between the two clubs is one of the bloodiest and most notorious in motorcycling history. 
 In fact, there is even a term that Outlaws coined for Hells Angels – ADIOS. ADIOS is an acronym coined by the Outlaws MC for Hells Angels who venture into their territory, and it stands for "Angels Die In Outlaw States."
The rivalry is believed to have started around the 1960s, but the situation got even worse in the late 1980s. This was when rumors started about the Hells Angels' plan to absorb the Hell's Henchmen MC. This was a club with a strong chapter in the Outlaws' home ground, Chicago. The ensuing War led to one of the most violent periods in biker history. 
Which other M.C.s do they ally with?
The Grim Reapers, the Iron Coffins, and the Mongols are allies. They are also on friendly terms with Bandidos, who are also arch enemies of the Hells Angels. 
However, after many years of peace, things may not be as smooth with the Mongol Nation Motorcycle club. Reports say that the Outlaws may be at War with Mongols MC, which has been making an incursion into the Outlaws' Chicago turf. There have been brawls in bars and shootouts. Source 
Membership
What kind of members do they accept, and the kind of motorcycles do they ride?
Membership in the Outlaws is limited to men who ride Harley-Davidsons or other USA-made cruiser motorcycles with engines of 1000cc or more. Women are not allowed.
Aspiring members must fulfill the following criteria:
Owns and rides a Harley-Davidson.
Is competent in the mechanics of motorcycles.
Lives a lifestyle congruent with biker subculture and "treats other righteous bikers as bros."
Must be male, heterosexual, and masculine in "outlook, behavior, and sexual orientation."
Does not conform to "worldly values" but instead conforms to the lifestyle of the club.
How to join?
Like other 1%er motorcycle clubs, Outlaws is also an exclusive club where membership takes work. Its website says, "Everything is done face to face, NOT online. DO NOT write us asking how to join! Find an Outlaw and ask him!". 
So, membership involves hanging around the club and members for a while to prove your loyalty and that you are trustworthy. It is a slow process and usually for life. 
Any famous past or present members
Harry Bowman
The most famous (or infamous) Outlaws MC gang member is Harry Joseph Bowman, nicknamed "Taco." Taco was born in 1949 in Michigan and died in 2019. He served as the international president of the Outlaws Motorcycle Club between 1984 and 1999. 
Taco is considered to be one the most notorious motorcycle gang leaders in U.S. history; He escalated a biker war between the Outlaws and the Hells Angels in the 1990s. And became the 453rd fugitive listed on the F.B.I. Ten Most Wanted Fugitives list in 1997. He was caught by the F.B.I. in June 1999 after being on the run for 18 months. 
He was convicted in Tampa, Florida, in 2001 of the murders of rival gang members, firebombings, racketeering, conspiracy, and various drug and firearm offenses. And was sentenced to serve two life prison sentences plus 83 years.
An interesting fact about Bowman is that contrary to the stereotypical image of a long-haired, bearded biker, he was generally clean-shaven, well-groomed, and was known to wear expensive suits. He had a reputation as a formidable, ruthless, and inventive but discreet crime boss.
You can watch a video on this notorious outlaw on Amazon Prime.
Reputation
How are they perceived as compared to other 1%ers
Outlaws MC is one of the four big Big 4 one percenter motorcycle clubs, along with the Hells Angels MC, Bandidos MC, and Pagans MC. 
Its reputation is notorious even among the general public. It is infamous for its execution-style shootings, drug trafficking, money laundering, extortion, gun fights, and even firebombs.
How do other M.C.s see them?
Outlaws MC is the oldest and the longest-running of all outlaw motorcycle gangs or clubs in the United States. Many other M.C.s see them as the epitome of 1%-ness. Its great rivalry with Hells Angels often means that it has allied with other Hells Angels rivals such as Bandidos MC.
List of support clubs/auxiliary clubs
Black Pistons MC
It is arguably the most well-known support club of Outlaws MC. It was established in Neuwied, Germany, in October 2001. Today, it is estimated that the Black Pistons have around 70 domestic chapters in 20 U.S. states and many international chapters. They exist in Belgium, Switzerland, Canada, Germany, Great Britain, Norway, Ireland, the Philippines, Japan, Russia, France, Hong Kong, Thailand, and Poland. 
It is believed that the Outlaws use the Black Pistons chapters as a recruitment source for prospective Outlaws members.
Other support clubs
Outlaws MC also has many more support clubs. They include the following:
Alimus MC Philippines
15 Crew
15 Bastards MC
Berserker Bikers
Black & White Crew
Black Legion
Black Riders MC Philippines
Black Skulls MC
Black Venom
BOAR MC
Border Riders MC
Chosen Few MC
Dead Eyes MC
Filthy 15
Friends & Family MC
Handful MC
Horse Creek MC
Iron Breed MC
Keltics MC
Knights of Sin MC
Legacy MC
Mandingos SC
Manila Klasiko MC Philippines
New Attitudes MC
Overlords MC
Piston Pirates MC
Randomers
Rat Bobbers MC
Reapers MC
Road Runners MC
Rotten MC
Rough Creed MC
Southern undeniable
Steel Pistons
Southern Saints
Throttle Brothers MC
Trogs MC
Wilde Horde
Wolf Pack MC
Wolverine-Clan
Dirty Crew MC
S.A.W. Boy MC
Bluegrass Brotherhood Louisville Ky
The Originals MC
Viking Tribe MC
Presence in pop culture
As it is expected, many people over the years have found Outlaws MC fascinating. O.M.G.s usually have a fan following, and many people who are interested in them are not necessarily bikers. The MC has been featured in a bunch of books as well as videos. Let's look at some of them below.
Books
Movies/Music
The Canadian T.V. series Gangland Undercover! It is based on the book Vagos, Mongols, and Outlaws: My Infiltration of America's Deadliest Biker Gangs. Watch it on Amazon Prime Video.
We kill the Hells Angels documentary 2017. Watch it here:
Conclusion
As you can see above, motorcycle gangs are fascinating and often have a rich history. Hells Angels are the most well-known MC in the U.S. and all over the world. But that doesn't mean that Outlaws MC is any less followed or read about. Its secretive nature makes it even more appealing to motorcycle enthusiasts.