Motorcycle clubs (MCs) can be classified into conventional and deviant clubs, and the most deviant clubs are those known as 1% motorcycle clubs or outlaw motorcycle gangs, also known as OMGs.

According to the American Motorcycle Association, "99% of the motorcycling public are law-abiding; there are 1% who are not." The 1% patch is only worn by clubs enmeshed in criminality and big enough to defend the claim that they're the "baddest of the bad."
Outlaw motorcycle gangs are motorcycle clubs that are famous for their members utilizing their motorcycle clubs as fronts for their criminal activities. According to the Department of Justice, there are more than 300 active OMGs in the U.S., with chapters ranging in size from five or six members to hundreds and thousands of members.

They're highly organized criminal groups with members who commit crimes like violent crimes, trafficking in firearms, and drug trafficking.
If you love motorcycles and motorcycle club culture, then you know about Bandidos MC. Bandidos MC is one of the famous 1% MCs in the United States. This article will provide you with more information about Bandidos MC to help you grasp who they are, how they came to be, and why they are one of the most well-known MCs in the country.
Bandidos Motorcycle Club History
The name "Bandidos" of the Bandidos MC was first coined in 1965 when Donald Chambers and his pals stopped at a nearby cantina on their way back to the United States from an annual trip to the bullfights in Sonora, Mexico. Their unique vibe and aura garnered attention from the other patrons when they entered the cantina — one patron asked the waitress, "Who are those guys?" The waitress answered, "That's DC and his American Bandidos." The name stuck.
The Founding of Bandidos Motorcycle Club
The Bandidos Motorcycle Club, also referred to as the Bandido Nation, was officially founded in March 1966 in San Leon, Texas, by Donald Eugene Chambers — also known as DC. The club was established as a tribute to the bandits who lived by their own set of rules. It gained more than 100 members by the beginning of the 1970s, many of whom were Vietnam War veterans.
How Bandidos Become a Part of 1% Motorcycle Clubs
As a motorcycle club that was founded as bandits, it is no surprise that the Bandidos MC is one of the 1% motorcycle clubs in the U.S. According to the Office of Justice, the Bandidos are involved in the production, transportation, and distribution of methamphetamine, as well as the transportation and distribution of cocaine, marijuana, and other drugs.
Bandidos MC is one of the highly developed groups that use their motorcycle club membership as a conduit for illicit activity.
Criminal Allegations and Incidents
The behavior of Bandido MC as a whole is typically conspiratorial, and they frequently utilize violence and intimidation to achieve their objectives. According to the 2005 National Gang Threat Assessment, the Bandidos motorcycle club is involved in:
Drug trafficking
Weapons trafficking
Prostitution
Money laundering
Explosives violations
Motorcycle and motorcycle parts theft
Intimidation
Insurance fraud
Kidnapping
Robbery
Theft
Stolen property
Counterfeiting
Contraband smuggling
Murder
Bombings
Extortion
Arson and assault
Bandidos Mc's Relationship With Other 1% MCs
According to the Journal of Criminal Justice, the big four OMGs or 1% motorcycle clubs are the Hells Angels MC, the Outlaws MC, the Bandidos MC, and the Pagans MC. They are all notorious for their criminal activity and aggressive behavior toward one another. The Bandidos, which have active chapters throughout the country, is the third-largest motorcycle gang in the world.
The Bandidos MC is different from other clubs in that they are only loyal to the teams that are the strongest in a certain region at a given moment.
They are friends with the Outlaws in the East and the Hells Angels in the West.
Bandidos MC Over the Years
When Bandido MC was established in 1966, the Houston Chapter, commonly known as the Mother Chapter, quickly saw the addition of the Southwest Houston Chapter. It didn't take long for the Bandido Nation to become a powerful and prospering organization with thousands of members and hundreds of chapters spread over the USA, Central America, and South America.
The Bandidos MC expanded to more than 80 countries in the years that followed, but as time went on, disagreements over the club's definitions and principles among the U.S., Europe, and Australia forced the club to make modifications. It was determined by a 100-vote majority at the yearly chapter presidents conference in February 2006 to provide Europe and Asia the freedom to choose their course.
On July 17, 2007, the club was divided.
Since this split, the Bandidos MC in the USA is no longer connected to the Bandidos MC in Europe, Asia, or Australia, despite having a similar name and patch — allowing Bandidos MC USA to return to its roots and represent motorcycle riding in its purest form. Today, the Bandidos Motorcycle Club, particularly the in the USA, currently has 1100 members in North, Central, and South America, making it the largest 1% club in the Western Hemisphere.
Bandidos Motorcycle Club Colors and Patch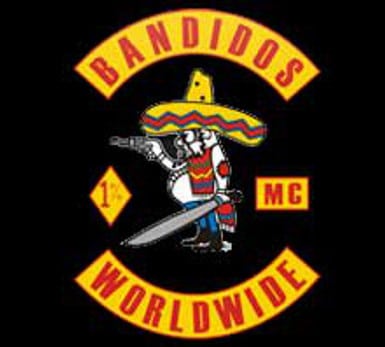 The Bandidos MC wears red and gold colors modeled after the U.S. Marine Corps. The emblem of the Bandidos, often called "Fat Mexican," features a caricature of a Mexican bandit wearing a sombrero and holding a sword in one hand and a gun in the other.
On top of their main logo and patch, they have several patches that different types of members wear. These patches include:
Expect No Mercy patch
TCB (Taking Care of Business) patch
CDG (Coup de Grâce) patch
It is customary for members to wear patches that identify their rank, chapter, and other details. Although the specific significance of each patch is not known to the general public, several law enforcement organizations have discovered Bandidos patches that they think are connected to specific criminal behavior and their member's roles and position in the club.
Mottos
The main motto of Bandidos MC is "We are the people our parents warned us about," which is still used to promote the club and is shown on their websites. However, they adhere rigorously to many mottos, such as:
"God forgives, Bandidos don't"
"Cut One, We All Bleed"
"Our Colors Don't Run"
"Bandidos forever, forever Bandidos" (BFFB)
Famous Members of Bandidos MC
In 1972, Ronnie Hodge was elected president following the reign of founding president Donald Chambers. After becoming the second El Presidente, Hodge became known as "Step-Mother" in honor of Donald Chambers — the organization's founder and first El Presidente — who was originally titled "Mother."
George Wegers is another well-known Bandidos MC member. He served as the organization's international president (El Presidente) from 1998 to 2005. In 2005, Wegers was arrested and pleaded guilty to racketeering. However, he only spent 20 months in prison as a result of a plea agreement when the Racketeer Influenced and Corrupt Organizations (RICO) Act charges were brought against a total of 26 members of the Bandidos Motorcycle Club.
Jeff Pike is another famous club member who went on to become the Bandidos MC International President as the successor of George Wegers. Jeff Pike had Weger's Bandidos patches revoked because of his involvement in a report about the club and his plea agreement with the law, taking down 25 members of Bandidos for criminal charges.
On January 6, 2016, Jeff Pike and the national vice president and sergeant-at-arms of Bandidos MC were, according to CNBC News, all detained at Conroe, Texas. Pike and others were found guilty by the jury of several crimes, including:
Racketeering conspiracy
Murder conspiracy
Racketeering assault
Racketeering murder
Drug trafficking
Drug trafficking conspiracy
Extortion
Weapon violations
The Reputation of Bandidos MC
Being a 1% MC in America has undoubtedly made Bandidos MC famous, earning them a reputation as notorious criminals. Nevertheless, aside from being members of OMGs, Bandidos are proud of many other reputations.
The club's members are fiercely devoted and loyal to their club. They are renowned for being very loyal to their women, as well as for enjoying themselves and taking part in various legal and illegal activities. They are an oddly contradictory but distinctive fusion of liberalism and conservatism.
Even while Bandidos MC is more well-known for its illegal activities, they also frequently participate in charitable endeavors, which helps explain why they have more supporters than enemies. They frequently host fundraising events for various causes all over the world. Bandidos MC is also famous for being a motorcycle club that lets kids ride on their bikes.
Organization and Chapters
Today, the Bandidos Motorcycle Club is a motorcycle club that is governed by local chapters, state and regional executives, a national chapter made up of regional vice presidents, and a national president. An international president, referred to as "El Presidente," serves as the club's head and is in charge of all club chapters in the U.S.
Although having the same name and patch, the Bandidos MC in the USA is no longer affiliated with the Bandidos MC in Europe, Asia, or Australia since the club split on July 17, 2007. Bandidos USA is seen as a separate organization from other Bandidos MC chapters throughout the world, although all of the different Bandidos MC chapters are still recognized as official Bandidos MC organizations.
Various Bandidos MC Chapters All Around The Globe
Bandidos MC Australia
Bandidos MC Australia was established and chartered in August 1983. The founding members were formerly affiliated with the city chapter of the Comanchero MC, whose chapter president at the time had traveled to the United States with other members while still a Comanchero MC member.
While there, they met Bandido members and were deeply moved by their brotherhood and hospitality. The Comanchero MC separated as a result of an ongoing conflict between chapters, which led to a complete lack of respect for the Mother Chapter, particularly the founder and Club President.
The Comanchero colors were burned during a ceremonial act, unintentionally creating the conditions for the hostility and subsequent violence that would come later. Snotgrass, the City Chapter President and Life Member of Comanchero MC, unsuccessfully attempted to mend the brotherhood between the two Chapters. Snotgrass got in touch with the National Presidente of Bandidos MC at that time, Ronnie Hodge, after recalling the appreciation that the U.S. Bandidos exhibited for him. Their Australian Charter was approved after much discussion with the Bandidos MC USA; Ronnie Hodge opened the ground for Bandidos International by granting Bandidos MC Australia a charter in that country.
Bandidos MC Europe
After the Bandidos MC Australia was founded in the mid-1980s, a local motorcycle club from Clichy in the northwest suburbs of Paris, France, contacted the Corpus Christi Chapter of the Bandidos MC and made plans to visit the American Bandidos to establish the first Bandidos MC chapter in Europe. The Frenchmen crossed the Atlantic to see the American Bandidos.
In 1989, American Bandidos traveled to France and fully covered MC Clichy. The Bandidos MC Europe was born, and Europe's first Bandidos MC Chapter received certification. The Bandidos MC Marseilles Chapter thereafter received their complete patch and proudly wore the "Fat Mexican" as well as the red and gold colors on their backs.
Bandidos MC Asia
The Bandidos MC Asia was founded in Pattaya City, Thailand, in 2001. It started when Theo, a Bandido Nomad from Switzerland, established a club called Diablos MC in Pattaya along with Jack, Jim, and Ake from Thailand. It gained recognition from Bandidos USA and later was established as the first Bandidos MC chapter in Thailand.
They moved on and established the second chapter in Bangkok City a few years later, with a German member serving as the chapter president. The Bangkok East End is the third phase, and the club is still expanding.
Early in 2012, Bandidos Thailand had 20 chapters and more than 200 members distributed over Asia. The Bandidos MC Asia has significantly expanded along with the Supporting Clubs and has Chapters all over Asia.
Support Clubs
Bandidos MC is one of the leading motorcycle outlaw gangs in the world, with support clubs in many nations, including Australia, Brazil, Canada, Denmark, Germany, Spain, Singapore, and many more. The U.S., however, has the biggest support clubs. Here is a list of American support clubs:
Aces and Eights Motorcycle Club
Alabama Riders
Amigos Motorcycle Club
Arawyns Motorcycle Club
Asesinos Motorcycle Club
Asgard Motorcycle Club
Bandoleros Motorcycle Club
Black Berets Motorcycle Club
Canyon Riders Motorcycle Club
Companeros Motorcycle Club
Cuchillos Motorcycle Club
Deguello Motorcycle Club
Desperados Motorcycle Club
Desgraciados Motorcycle Club
Destralos Motorcycle Club
Dysfunctional Motorcycle Club
Ghost Riders Motorcycle Club
Guardian Motorcycle Club
Gurio Motorcycle Club
Gray Ghosts Motorcycle Club
Hombres Motorcycle Club
Intrepido Motorcycle Club
Junkyard Dawgs Motorcycle Club
LA Riders Motorcycle Club
Latin Steel Motorcycle Club
Los Homeboys Motorcycle Club
Martyrs Motorcycle Club
Mississippi Riders
OK Riders Motorcycle Club
Organized Chaos Motorcycle Club
Ozark Riders Motorcycle Club
Pacoteros Motorcycle Club
Peligrosos Motorcycle Club
Phantoms Motorcycle Club
Road Dogs Motorcycle Club
Serpents of Medusa WMC
Tejanos Motorcycle Club
Thunder-Heads Motorcycle Club
Vaqueros Motorcycle Club
Bandidos Motorcycle Club Books, TV, and Movies
Given how well-known Bandidos MC is and how their journey to become one of the most popular MCs in the world is an outstanding and unique one, they have a significant presence in pop culture in the form of books and TV shows.
Books
TV Shows
Membership
What Kind of Members Do They Accept, and the Kind of Motorcycles Do They Ride
Members of the Bandidos must be men and have at least one Harley-Davidson motorcycle; however, they can own other American-made bikes.

To demonstrate that they are more than just tough, club members must complete several initiation tasks set by the leader.

Members of Bandidos are not meant to work with law enforcement and are expected to "have a general disdain for the rules of society" and not to fear authority. Any violation of these guidelines could result in a fine, rank reduction, removal of a patch, expulsion from the club, or physical violence. Source
How To Join
It takes at least two years to fully enlist in the Bandidos, and the process is not simple. Everyone who wants to join the Bandidos MC needs a sponsor who has known them for at least five years.
The potential members must then undergo a background investigation. Members of the Bandidos visit the prospects' hometowns with them so they can meet their families to ensure that their identity is accurate and that they are not connected to the police. Source
The Bottom Line
Bandidos Motorcycle Club has a remarkable origin story of how they rose to become one of the top MCs in the world and one of the famous 1% MCs in the U.S. Bandidos MC and its support clubs, together with other 1% MCs, will keep growing and make a difference to others.